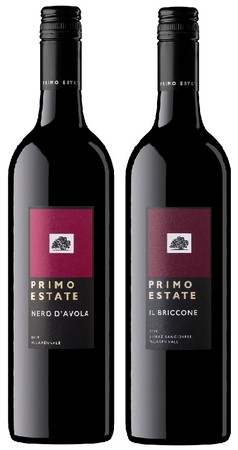 Red Entertainer Dozen
Was $348 - save $53 on this special offer dozen.
6 x 2020 Primo Estate Nero d'Avola
Winemaker Joe Grilli fell in love with the Nero d'Avola grape during his trips to its Italian home in Sicily. This red combines pepper and liquorice on the nose with black plum and currant flavours on the palate. A delicious, savoury style with a juicy core of McLaren Vale richness. This limited release won't last long!
6 x 2020 Primo Estate 'Il Briccone' Shiraz Sangiovese
The Il Briccone is our 'Rogue blend' of rich McLaren Vale Shiraz with savoury Sangiovese. This is a full-bodied red brimming with blackberries, pepper and spice. The Sangiovese adds a burst of cherry to the wine's balanced finish. Il Briccone shines when poured alongside hearty, tomato-based cooking.
1 x 250ml Primo Estate Extra Virgin Olive Oil
A fresh and fruity Extra Virgin Olive Oil with a hint of pepper on the finish.
Plus FREE SHIPPING and insurance!