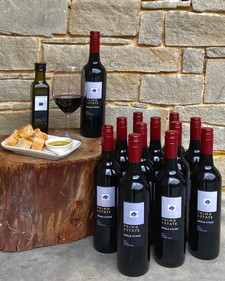 The Shale Stone Shiraz Special Offer Dozen
12 x 750ml 2019 Primo Estate Shale Stone Shiraz
The classic richness of our McMurtrie Road Vineyard in the heart of McLaren Vale is evident in this wine. However, it is the perfume and mineral texture of Shiraz grown in the shale stone of Angel Gully, Clarendon that sets it apart.
A bouquet of bright red berry fruit with classic McLaren Vale spiciness. On the palate, plum fruit and spice balances the soft texture and a touch of minerality. There is no better wine to complement chargrilled beef or lamb!
1 x 250ml Primo Estate Extra Virgin Olive Oil
A fresh and fruity Extra Virgin Olive Oil with a hint of pepper on the finish.
Plus FREE SHIPPING and insurance!