Nonna Grilli's Biscotti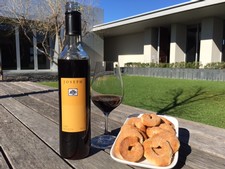 Recipe Date:
27 June 2017
Measurements:
Imperial (US)
These delicious treats are a firm favourite with the Primo Team, perfection paired with an espresso and a glass of JOSEPH Fronti. Santina brought this recipe with her when she moved to Australia from her birthplace of Le Marche on the central Adriatic coast of Italy.
Ingredients
1 1/2 cups Sherry
1 cup Sunflower oil
1 cup Caster sugar
4 tbsps Vanillin sugar (Masterfoods or Hoyts)
2 cups Self raising flour
2 cups Plain flour
1/2 cup Dessicated coconut
Directions
Heat the oven to 200°C.
Mix the sherry, oil, flours, caster sugar and coconut in a mixing bowl until well combined.
Roll the dough into a 'snake' about 1cm thick. Cut into 8cm lengths, then join the ends together to make crescent shaped biscuits.
Place them on a baking tray lined with greaseproof paper. Just before you place them in the oven, dip the biscuits into the vanillin sugar to coat one side then place them sugar side up.
Bake for 15 to 20 minutes until golden brown. Remove from oven and allow to cool. Store in an airtight container.
Serve with an espresso and a glass of JOSEPH The Fronti.