Risotto Con Salsicce E Radicchio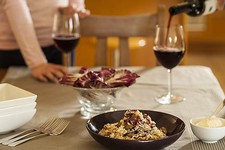 Recipe Date:
4 November 2015
Ingredients
400 g Arborio rice
4 Italian pork sausages, skin removed and cut into thumb sized pieces
1 Radicchio lettuce, leaves shredded
1 Onion, finely chopped
1.5 l Chicken stock
200 g Parmesan, freshly grated
Directions
Heat the chicken stock to a simmer and check for seasoning.
In a large saucepan saute the onion with 2 tablespoons of JOSEPH Olive Oil for about one minute until it softens. Add the sausage and cook for three or four minutes until the meat colours. Add the rice and stir for two minutes until coated.
Start adding the warm broth ladle by ladle, allowing each ladleful to be absorbed by the rice before adding the next, gently stirring all the time.
After about eight minutes add the radicchio and continue cooking until the rice is cooked but al dente.
Take off the heat and stir in 3/4 of the Parmesan and two tablespoons of JOSEPH Olive Oil. Serve with the rest of the Parmesan on top.