La Biondina 2023
La Biondina is 'the young blonde' - our vibrant, spirited white wine.
It's our best effort at making South Australia's greatest food-friendly white!
La Biondina bursts with juicy passionfruit, guava and lemon blossom flavours. Its crisp citrus finish balances 'fruit salad' exuberance.
I love serving this wine with simple seafood dishes like my Salt & Pepper Garfish Recipe.
There's no better feeling than the first sip of chilled La Biondina on a warm evening.

Joe Grilli
Owner & Winemaker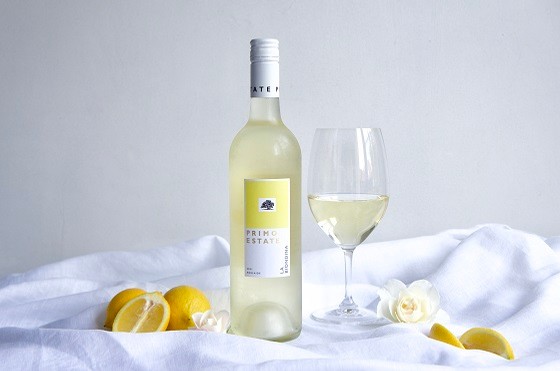 Enjoy a BONUS bottle of Extra Virgin Olive Oil and FREE shipping with every straight or mixed dozen of Primo Estate or JOSEPH products.
Product Reviews
Craig
(09/07/2015 at 7:56 AM)
Has become a staple in our house and my wife's white of choice. Compliments so many meals with ease and always receives compliments from guests.
Debra Cushion
(22/11/2018 at 6:15 PM)
This has been a long time favourite - since at least 2005! It was one of two whtie wines at my wedding, which was a great night all round! Delicious, fresh, zesty - great with grilled flathead or octopus.
Bill Parkinson
(13/09/2019 at 8:39 PM)
Fresh, fruity, dry. Good match for many foods, pasta,seafood especially and a great wine to drink at any time.
SUSAN MARGITICH
(16/10/2019 at 3:44 PM)
My go to wine for enjoying on warmer evenings and with casual dining.
John McGregor
(14/02/2020 at 5:43 PM)
My dear wife has a glass of La Bondina every night.She has three bottles left from the last supply.I expect the 2020 product will be released in about May.What do you suggest as a temporary replacement!
Michael Beckmann
(19/05/2020 at 2:41 PM)
Lovely with seafood and salad lunch, or lazy afternoon.
Brett Smith
(19/05/2020 at 3:52 PM)
A lovely wine with good fruit flavors and a dry finish. Perfect with a seafood lunch or pre dinner on a warm day.
Brian
(19/05/2020 at 5:08 PM)
I haven't tried this wine for many years until a few weeks ago and was very impressed. I understand it was made from a blend of Italian varieties - is this correct. Great work Primo.
Greg
(19/05/2020 at 7:36 PM)
Good value ,always a fresh crisp
Rob
(19/05/2020 at 8:58 PM)
La Biondina is my wife's 'go to' wine. We ran out some weeks ago and there was a delay in getting stock. Verdicchio was a worthy replacement, albeit a tad more expensive. Pleased to have La Biondina back. Rob
Janet
(20/05/2020 at 3:49 PM)
It has been several years since I drank a bottle of LaBiondina having moved to Hobart from South Australia. The first bottle took a bit to get used to as the flavour seemed on the sour side. However, as I then had some food, the flavour changed again and softened with a buttery taste. All I can say is we thoroughly enjoyed the other 11 bottles.
Sue Lewis
(24/05/2020 at 3:16 PM)
A beautiful wine, fresh, fruity, dry, gorgeous!! Its been my "go to" wine for years, great with most food ,or no food , which means I've drunk a lot of it! Cheers to 2020!!
Maritha Keyser
(04/06/2020 at 1:11 PM)
I like a wine that's not too crisp and dry, with soft lingering fruity flavours, but not too sweet. The 2020 La biondina has hit the mark. Ordered 1 first to try, and then 12.
Elizabeth Miller
(18/10/2020 at 10:30 PM)
I love this wine it practically goes with anything it is so smooth and a wonderful wine to enjoy in Summer or all year round.
Dale
(25/05/2021 at 5:04 PM)
2021 is awesome guys. Slightly chilled, its delicious. Need to save some for summer, somehow.
Jesse K
(28/05/2021 at 11:14 AM)
Fruit forward and racy. Everything I want from a white wine at an incredible price. Keep up the good work Joe!
Graeme Abram
(07/06/2021 at 3:22 AM)
This is our white wine of choice. Great flavour and goes with almost any food. Well done, again, on a very special wine.
Peter McIntyre
(07/06/2021 at 8:37 AM)
Beautiful as always. My favourite white.
Stephen Pahl
(07/06/2021 at 9:01 AM)
A delicious wine that delivers 100% on the Cellarmaster's description. Highly recommeded. It is not only the wine that is excellent from Primo - the prompt despach to Brisbane and excellent service also supremely good.
MandyM
(08/06/2021 at 4:17 PM)
First had this wine about 20 years ago and loved it. It kind of disappeared, as we don't live in SA, but am now SO happy to be able to order online! Really lovely wine, fresh with nice acidity and luscious flavour.
steve t
(09/06/2021 at 7:22 PM)
What a wine; so addictve and a absolute pleasure to drink. S hard to stop at 2 glasses
Thalia W
(13/06/2021 at 12:47 PM)
One of my absolute favourites!
Natalie and James
(15/06/2021 at 7:48 AM)
Beautiful crisp wine full of summer flavours which we enjoy all year around in Cairns. Went beautifully with our cheese platter sitting by the pool.
Karen Treloar
(28/06/2021 at 5:52 PM)
Always love this wine & again the 2021 doesn't fail to impress
Laraine
(01/07/2021 at 3:14 PM)
this has been my favourite white wine for years, a must have with King George Whiting, can't beat the taste and quality
Kristy Tonkin
(05/07/2021 at 9:12 AM)
A new favourite! A perfect wine to pair with food. Really enjoying it.
Richard Lumb
(22/07/2021 at 11:40 AM)
Wonderful mix of fresh tropical fruit flavours and balanced acidity at the finish. Best vintage yet!
Ann
(14/08/2021 at 10:05 AM)
This my favourite white wine, and 2021 vintage is no disappointment
Geoff B
(31/08/2021 at 9:03 AM)
Just gorgeous. Hadn't drunk in years for some reason. What have I been missing out on ?? More please !!
Dianna Lee
(10/02/2022 at 2:29 PM)
Wonderful wine that lives up to expectations. Light on the palette, slight fruity and not too sweet or dry. Would recommend for all year round.
David
(08/03/2022 at 4:13 PM)
A long time favourite of ours. The prefect wine for just about any occasion.
Naomi
(18/04/2022 at 6:18 PM)
My husband and I both love this wine. Light and not too sweet or dry, a perfect balance. A great all occasions wine.
Gemma Cooper
(26/06/2022 at 6:54 PM)
Better even than previous year! La Biondina is a hit at our place! This white is my husband's fave and a very enjoyable white to us both.
Allan Smith
(27/06/2022 at 9:05 AM)
Refreshingly unique with fruit abundance and smooth finish. Great for pre dinner, fish dishes, etc.
Peter Stanley
(27/06/2022 at 5:31 PM)
It's addictive ! My preferred white wine for close to 30 years and it gets better every vintage.
Ann
(29/06/2022 at 8:31 PM)
Undoubtedly my favourite white wine for many years now.
Leon Huddy
(19/07/2022 at 5:11 PM)
My favourite white wine.
Robyn Shinners
(06/09/2022 at 6:22 PM)
This has become one of our all-time favourites - so fresh and delicious xx
Wooi
(24/01/2023 at 8:23 PM)
What else could I add since it is already of the right body and keeps on stimulating my taste buds. Anxiously await the vintage. Bravo Primo.
Roger
(28/08/2023 at 7:23 PM)
These wines never disappoint - want quality and enjoyable experience then it is Primo.
Debra
(03/11/2023 at 9:27 PM)
Had this first at my wedding in 2005 - it hasn't skipped a beat! Luscious summer-time drinking, great with a cheese platter, of some grilled barramundi.
Diane Bak
(23/11/2023 at 11:07 PM)
I have been drinking this wine since the late nineties. My all time favourite.
Brad
(25/11/2023 at 12:15 PM)
Fresh, fruity and dry. Delicious on its own, great match with sea foods or pasta