Pecorino 2023
SOLD OUT
Top 100 Wines of 2022 - James Halliday
Top 100 Wines of 2021 - James Halliday
I've dreamt of making this wine for 20 years.
I first tasted Pecorino in Le Marche, Italy – back in 2000. A local winemaker told me that this ancient grape was undergoing a renaissance.
In the space of a few years, Pecorino had risen from complete obscurity to become a staple on the wine lists of Italy's best restaurants. My dream of a South Australian Pecorino was born.
Finally, in recent years, an opportunity came. A local, veteran Adelaide Hills grower had planted South Australia's first ever Pecorino vineyard. I jumped at the opportunity to secure the fruit.
We hand-picked the grapes, fermented in stainless steel, and bottled the wine young.
This is a mouthwatering white wine with a delicate perfume of stone fruit, lemon blossom and almond.
Pecorino is the perfect match for your favourite Summer dishes. We love drinking this wine with my Fritto Misto Recipe - a classic Italian Seafood Fry.

Joe Grilli
Owner & Winemaker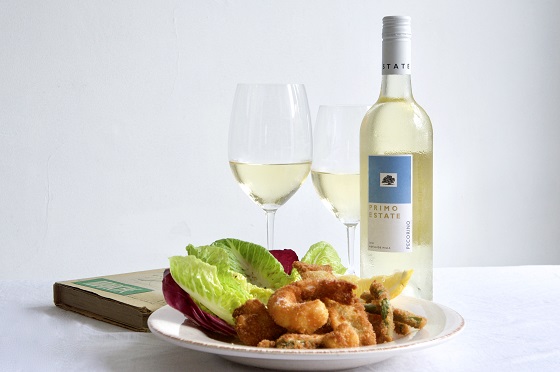 Enjoy a FREE bottle of Extra Virgin Olive Oil and FREE shipping with every straight or mixed dozen of Primo Estate or JOSEPH products.
Product Reviews
rob scott
(07/11/2021 at 6:44 PM)
First came across this variiety in UK a couple of years ago. I srtuggled to find it when i came home to Melbourne. I am overjoyed to see a hmoe grown version. I am also glad to say that it is an excellent example of the style, in fact i prefer it to the imported. It has an astounding freshness and mouth feel. Great with seafood and pasta. In fact imwould drink itmwith any food, spicy Chinese for example. My new favourite. Well done Mr Grilli.
DIANE
(08/11/2021 at 10:39 AM)
Thoroughly enjoyed Joseph's new PECORINO WINE, living in hot sunny Qld this refreshing style suits our climate perfectly We enjoyed another bottle last night. Will definitely be ordering more. Hope you will continue to support this great grape variety.
jayne mcintosh
(08/11/2021 at 1:18 PM)
very different flavour, but delicious from the second drop, took a short while to savour this very different grape variety, very refreshing, lovely on the palate.
RUSSELL
(08/11/2021 at 8:43 PM)
We bought a dozen based on Joe's enchanting story, with reminiscences of Primo's background. First bottle tonight was enjoyed with a simple spicy chicken stir-fry. We found it softer than the ever popular La Biondina, and eminently enjoyable. Looking forward to a mor challenging match tomorrow night.
Pat
(09/11/2021 at 3:19 PM)
A wonderful wine - totally in love with it. But then I've never had a wine from Joe that isn't marvellous.
Anthony ( Tony) Ferguson
(09/11/2021 at 6:19 PM)
Beautiful nose on opening. Very fruity & fresh on the palate. Lovely wine.
Wendy Nicolo
(09/11/2021 at 8:38 PM)
Absolutely loved it, light, fruity very refreshing drink got those lazy summer days.
John Waterhouse
(12/11/2021 at 6:20 PM)
The most delicious and refreshing young white. I love the varietal character and the style. I'll second Pat's comment - always marvellous. I started buying on and off from Primo Estate back in 1980 at Virginia.
Trevor King
(09/12/2021 at 9:57 AM)
Lovely, interesting wine that's big on fruitiness and freshness.
Anthony G Cook
(20/12/2021 at 11:32 AM)
A wonderful fruity wine and not too sweet
Madeleine VON MURALT
(25/01/2022 at 10:35 AM)
Thoroughly enjoyed this delightful 'new' wine, after getting over the misconception that pecorino was a (quite sharp) cheese, and hope to get more of it.