Butterfly Pasta with Zucchini and Prawns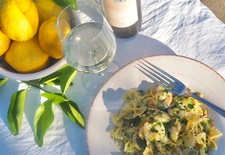 Recipe Date:
30 January 2020
Ingredients
1 clove of garlic
2 medium-sized zucchinis, grated
1 half tablespoon of butter
1 bottle of JOSEPH Extra Virgin Olive Oil
10 g dried chilli, diced
30 g finely chopped fresh parsley
500 g fresh prawns
500 g farfalle pasta
Directions
Bring a large pot of water to boil for the pasta.

Heat up the butter and a drizzle of olive oil in a frying pan on medium heat.
Once the butter has melted, add in the garlic, finely chopped, and fry off for about 1 minute.
Add in all of the grated zucchini and cook for two minutes to soften.
Add salt & chilli to taste and continue to cook until moisture has evaporated and the zucchini starts to turn golden.
Add prawns and turn the heat to high, stirring through for 1-2 minutes.
Salt the boiling water and add pasta, cook according to the packet or al dente.
Turn the heat on the prawns back down to medium while you cook the pasta. Let the pan simmer until the prawns are cooked through.
Add in the finely chopped fresh parsley to the pan and stir through.
Combine pasta with prawn sauce and stir through.
Serve with a fresh drizzle of Joseph Extra Virgin Olive Oil and a glass of the JOSEPH Pinot Grigio D'Elena; the d'Elena's fine fruit and crisp acidity make it the perfect match for this Northern Italian Summer pasta.