Fennel and Salami Pasta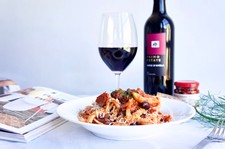 Recipe Date:
4 April 2013
Ingredients
500 g spaghetti
100 g of your favourite salami sliced and cut into 1cm strips
A fist sized bulb of fennel, trimmed, thinly sliced then roughly chopped
Handful of kalamata olives, pitted and halved
Pinch of dried chilli
2 garlic cloves, finely chopped
1 can diced tomatoes
Sea salt and freshly ground black pepper to taste
JOSEPH Cold Pressed Extra Virgin Olive Oil
Parmesan cheese
Directions
1. Bring a saucepan of salted water to the boil then cook spaghetti until 'al dente'.
2. Heat four tablespoons of JOSEPH Cold Pressed in a frying pan over a low to medium heat
3. Gently fry the fennel, salami, garlic and chilli for five minutes. Add the olives and fry for a further five minutes.
4. Add the tin of tomatos and simmer for ten minutes. Add salt and pepper to taste.
5. Drain the pasta and combine with the sauce.
6. Serve dressed with grated Parmesan and a generous drizzle of JOSEPH Cold Pressed Extra Virgin Olive Oil as pictured.
7. Pour yourself a healthy glass of our Nero d'Avola, sit down and enjoy.
The Nero's plum and black cherry flavours take this pasta to the next level. Salute!