Flourless Orange Cake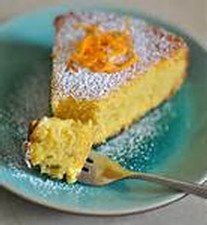 Recipe Date:
15 October 2013
Measurements:
Imperial (US)
Ingredients
2 medium oranges
6 eggs
1 cup caster sugar
1 1/2 tsps baking powder
1 1/2 cups ground almonds/almond meal
Tip: fancy a change? The two oranges can also be replaced by 4-5 clementines, 3 lemons or 350g of kumquats
Directions
Wash and scrub the outside of the oranges and place them whole (skin and all) in a pot and fill with cold water to cover. Place over a medium high heat and bring to a boil. Allow to simmer uncovered for 20 minutes or so then drain the oranges, place them back in the pot and refill with more cold water. Repeat the process by bringing to the boil, simmer for 20 minutes then drain and refresh with more cold water. Bring it a boil and simmer for about an hour then drain the oranges and set them aside to cool. All up the process should take about 2 hours and you're draining and refreshing the oranges three times.
Preheat oven to 175°C / 350°F and lightly grease and line with baking paper a 23 to 25cm cake tin (9.5 to 10 inch tin). I use large round cake tin (24cm across x 7cm high)
When the oranges have cooled, roughly chop them to pieces and remove any seeds and white pith (these will make your cake bitter). Place in a blender or food processor (skin and all) then blend/process until a fine puree. Measure out 1 1/4 cups of the puree. The rest I just keep in the freezer until the next orange cake episode.
Beat the eggs, sugar and baking powder with an electric mixer until thickened and pale in colour. Add in the ground almonds and mix in well. On a low speed, add in the orange puree in two or three batches allowing it to beat for at least 20 seconds after each addition. Pour into prepared tin and bake for anywhere between 40 minutes to an hour (depending on oven). Cake is ready when a skewer comes out clean. If it looks like it's browning too much after 30 minutes then you can place a sheet of aluminium foil over the cake tin. When done, remove from oven and cool for 10 minutes before removing it from the tin and cooling on a cake rack.
Serve with a dollop of orange-blossom scented double cream (or plain cream) and candied orange peel if you wish. The perfect pairing for our JOSEPH La Magia Botrytis Riesling Traminer.