Joe's Grilled Mussels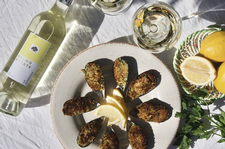 Ingredients
1.00 kg Fresh Mussels, rinsed and de bearded
1 cup Breadcrumbs
2 heaped tablespoons Parsley, finely chopped
1 clove Garlic, finely grated
1 small lemon's Zest
8 tablespoons JOSEPH Extra Virgin Olive Oil
Directions
Blanche the mussels in a saucepan with 1 cm of water. Keep the lid on for two minutes so that the mussels open.
Drain the water and allow the mussels to cool.
Place the breadcrumbs, parsley, garlic, lemon zest and a pinch of salt and pepper into a bowl. Mix thoroughly with a spoon.
Sprinkle a dash of JOSEPH Extra Virgin Olive Oil over the mixture (approximately 8 tbsps). Combine so that the breadcrumbs are 'dampened' with the oil.
Turn on your oven grill at maximum heat.
Take one mussel and remove the shell 'lid'. Place a spoonful of the breadcrumb mixture over the mussel and pat it down to fill the shell as pictured. Repeat for all mussels
Place the stuffed mussels on a grilling tray, shell side down.
Place the tray of stuffed mussels under the very hot oven grill. Cook for 3 1/2 - 4 minutes. The breadcrumbs should begin to turn brown and crispy.
Serve with slices of lemon and a fresh glass of chilled La Biondina!