Lamb Cacciatore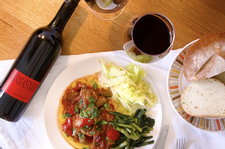 Recipe Date:
22 February 2023
Ingredients
1 kg thickly cut lamb chump chops
1 onion, diced
3 cloves garlic squashed
1 red capsicum cut into 2 cm pieces
1 green capsicum cut into 2 cm pieces
1 400g can diced tomatoes
1 cup white wine
2 tsp dried mixed Italian herbs
salt and pepper, to taste
JOSEPH Cold Pressed Extra Virgin Olive Oil
chopped fresh parsley, for garnish
Directions
Simmer up this rustic recipe with tender lamb, fragrant herbs, and hearty tomatoes.
Perfect for pairing with the smooth richness of our Virginia Vineyard Shiraz Cabernet Merlot.
1. In a large skillet or Dutch oven, heat a little olive oil over medium-high heat.
2. Add the lamb chops and cook until browned on all sides, about 5-7 minutes. Transfer the meat to a plate and set aside.
3. In the same skillet, add the onion, garlic and sauté until the onion is translucent, about 2-3 minutes.
4. Add the red and green capsicum and sauté for an additional 2-3 minutes.
5. Add the cup of white wine and stir for a minute. Then add the can of diced tomatoes, dried mixed Italian herbs, salt, and pepper, and stir to combine.
6. Return the lamb chops to the skillet and bring the mixture to a simmer.
7. Reduce the heat to low, cover with a lid, and let the lamb cacciatore simmer for 45 minutes, stirring occasionally.
Serve the lamb cacciatore hot, garnished with chopped fresh parsley and a generous extra drizzle of JOSEPH Cold Pressed Extra Virgin Olive Oil.
A crunchy salad, lots of crusty bread and your favourite braised greens are essential accompaniments!