Panettone Bread and Butter Pudding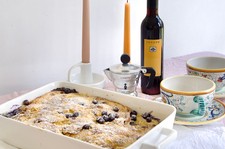 Recipe Date:
12 August 2022
Ingredients
700 g panettone cut into 1cm thick slices
500 ml milk
500 ml cream
4 eggs
125 g sugar
zest of 1 lemon
2 tablespoons of JOSEPH The Fronti Fortified
2 tablespoons of rum
1 cinnamon stick
butter
1 teaspoon vanilla extract
150 g blueberries or raisins
icing sugar
Directions
Turn your Christmas Panettone into a show-stopping dessert with this simple recipe.
Best enjoyed with black coffee and a glass of the The Fronti Fortified.
1. Preheat the oven to 170°C. Lightly grease a 1.5 litre ovenproof dish with butter.
2. Layer the panettone slices and blueberries in the baking dish. Drizzle with The Fronti, cover the dish and set aside.
3. Place the milk, cream, lemon zest and cinnamon stick in a saucepan. Bring to boil.
4. Once boiled, remove from heat and strain to remove lemon and cinnamon. Set aside.
5. In a separate bowl, whisk eggs, vanilla extract and sugar until the mixture is pale.
6. Combine the hot milk mixture and beaten eggs. Whisk together.
7. Pour this mixture over the panettone. Push the slices down until they're covered.
8. Place the panettone dish into a large baking tray. Pour boiling water in the baking tray until halfway up the sides.
9. Bake for 35 minutes, until the panettone is golden and the custard has set.
Dust with icing sugar, and serve with black coffee and a glass of The Fronti Fortified.
The Fronti's caramel and toffee flavours bring the best out of this heartwarming Christmas dessert. Enjoy! 🎄🎅