Olive Oil & Rosemary Cake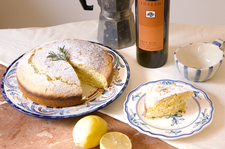 Ingredients
2 cups all-purpose flour
1 1/2 teaspoons baking powder
1/2 teaspoon baking soda
1/2 teaspoon salt
2 tablespoons fresh rosemary, finely chopped
2 large eggs
1/4 cup granulated sugar
3/4 cups extra virgin olive oil
1 cup plain Greek yoghurt
1/4 cup freshly squeezed lemon juice
zest of 1 lemon
powdered sugar, for dusting
Directions
New to baking with olive oil? JOSEPH First Run is the secret to a fresh, spicy spin on this fragrant Winter cake.
1. Preheat your oven to 175°C. Grease and flour a 9-inch round cake pan.
2. In a medium bowl, whisk together the flour, baking powder, baking soda, salt, and chopped rosemary. Set aside.
3. In a large bowl, beat the eggs and granulated sugar together until pale and fluffy.
4. Slowly drizzle in the olive oil while continuing to beat the mixture. Mix until well combined.
5. Add the Greek yogurt, lemon juice, and lemon zest to the wet mixture. Mix until smooth.
6. Gradually add the dry ingredients to the wet mixture, stirring until just combined. Be careful not to overmix.
7. Pour the batter into the prepared cake pan and smooth the top.
8. Bake for about 35-40 minutes, or until a toothpick inserted into the center comes out clean.
9. Remove the cake from the oven and let it cool in the pan for 10 minutes. Then transfer it to a wire rack to cool completely.
10. Once the cake has cooled, dust it with powdered sugar and garnish with a sprig of fresh rosemary before serving.
Serve with hot coffee and a glass of The Fronti Fortified. Perfect for dunking!