Spaghetti al Tonno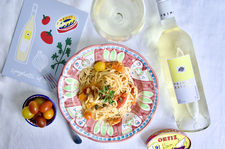 Recipe Date:
4 January 2023
Ingredients
300 g Maestri Pastai Spaghetti No. 5
112 g tin Ortiz White Tuna in Olive Oil
4 heaped teaspoons baby capers rinsed
500 g mixed colour cherry tomatoes cut in half
1 tablespoon dried oregano
Primo Estate Extra Virgin Olive Oil
sea salt and freshly cracked black pepper
Directions
Our family has a Sunday lunch tradition - chilled white wine with freshly cooked seafood pasta.
This recipe is Mediterranean heaven when served with a chilled glass of La Biondina!
1. Cook the spaghetti in a pan of boiling salted water according to packet instructions.
2. Place a large non-stick frying pan onto medium heat. Add two tablespoons of Primo Estate olive oil.
3. Add the capers and fry until crispy. Remove them from pan and set aside.
4. In the same pan, add tomatoes, most of the oregano, the tin of tuna including oil, and two ladles of pasta cooking water.
5. Add sea salt and freshly cracked black pepper to taste. Allow ingredients to simmer until the pasta has finished cooking.
6. Reserve a mugful of pasta cooking water then drain the pasta.
7. Toss the pasta in tuna pan, loosening with a splash of the reserved pasta water if required.
Serve on plates with the capers, remaining oregano and lots of Primo Estate olive oil drizzled on the top.