Uovo Sbattuto - Smashed Eggs!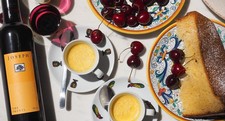 Recipe Date:
17 December 2019
Ingredients
4 Egg Yolks
4 tablespoons white sugar
4 teaspoons vanilla essence
150 ml JOSEPH 'The Fronti' Fortified NV
1.00 kg Pandoro, sliced vertically
Directions
Combine the egg yolk, sugar, vanilla essence and 150ml of The Fronti Fortified in a mixing bowl.
Beat until the mixture is light in colour as pictured - this is Uovo Sbattuto.
Serve in cups alongside an espresso, glasses of the Fronti, and the Pandoro cut into slices.
Dip the pandoro in uovo sbattuto and coffee as you like!