Borlotti Bean Stew with Crispy Pancetta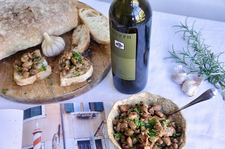 Recipe Date:
10 August 2023
Ingredients
2 x 400g cans of borlotti beans
200 g pancetta, diced
2 cloves garlic, minced
2 sprigs fresh rosemary
sea salt & cracked black pepper, to taste
1/3 cup JOSEPH Extra Virgin Olive Oil
fresh parsley, chopped
toasted ciabatta bread
Directions
This rustic side dish hails from our family's homeland in Northern Italy, where it's known as 'Fagioli alla Veneta'.
It's perfect for showing off the new season's JOSEPH Olive Oil!
1. In a large pan over medium heat, add the pancetta and cook until it has begun to crisp. Remove the pancetta with a slotted spoon and set aside, leaving the fat in the pan.
2. In the same pan, add 1/3 cup of JOSEPH Cold Pressed Olive Oil. Once the oil has warmed up, add the minced garlic and rosemary sprigs. Sauté until the garlic is golden and fragrant, about 2-3 minutes. Be careful not to burn the garlic.
3. Drain and rinse the borlotti beans, then add directly to pan. Sauté in the garlic and rosemary oil for about 2 minutes, until they're well-coated and hot.
If you prefer a creamier texture, you can add some water and mash some of the beans with the back of a spoon.
4. Return the cooked pancetta to the pan and stir to mix well.
5. Season the beans with salt and pepper. They'll soak up more salt than you might expect, so taste as you go. Mix thoroughly.
6. Serve the beans hot in a bowl or on toasted ciabatta bread. Sprinkle with fresh parsley for added flavour and colour.
Bring out the best flavours of this dish with a final drizzle of JOSEPH Cold Pressed Olive Oil!