Virginia Vineyard Chardonnay Riesling Sauvignon Blanc 2023
A vibrant, fruit-driven white with a clean, crisp finish.
12 x 750ml bottles
Abundant sunshine and the afternoon sea breezes sweeping off St Vincent's Gulf combine to produce a wine bursting with tropical fruit flavours, delicate texture and naturally balanced acidity
The Chardonnay adds a touch of richness to the fragrance of the Riesling. Sauvignon Blanc adds a lively citrus finish. Ideal with your favourite foods or just sip and enjoy with good company.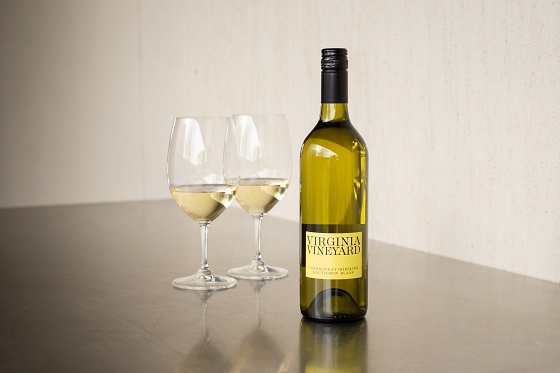 Enjoy FREE Shipping when you order 5 cases or more of any Virginia Vineyard product.
We GUARANTEE your satisfaction - if you do not LOVE your Virginia Vineyard order, we will refund the full cost of the wine.
Product Reviews
John McKay
(13/06/2015 at 2:25 AM)
A zesty, fruity successful combination. A good accompaniment to many "white" dishes.
Sharyn
(17/06/2015 at 7:17 AM)
A great drop. Easy to drink & very smooth & tasty. It's one that creeps up on you & says " quick, open another bottle".
Robert Clegg
(24/10/2015 at 8:27 AM)
A great wine as described, perfect for a arm day
Carmel and Perry
(27/10/2015 at 1:06 PM)
Once again like the red we were surprised with this wine. It has such a crisp and fruity flavour, very enjoyable. Perfect on a warm night. We have also ordered another dozen of this wine as it is so easy to drink at such a bargain price.
Diana
(27/10/2015 at 2:01 PM)
What a pleasant surprise - a light fruity wine that sings SUMMER ! made for kicking back and enjoying yourself.
David
(07/10/2016 at 6:51 PM)
A wonderful Quaffer, relatively inexpensive and taste-wise punches comfortably above it's weight!
David
(25/01/2018 at 12:08 PM)
This is a really nice wine. I am no wine expert but I enjoy this wine with its clean fruity flavours.
Sue
(23/10/2019 at 1:22 PM)
A refreshing easy drinking wine, ideal for our long hot summer days & nights
Brendan
(23/12/2020 at 4:10 PM)
Not usually a white drinker but purchased after recommendation from a good friend. I was "sold" immediately! What a great blend, refreshing, fruity and excellent value for money wine
John Power
(12/03/2021 at 8:31 AM)
Fresh, balanced blend. Excellent value as well
Rod Cameron
(12/06/2021 at 1:40 PM)
A really tasty white wine. Very hard to stop at one glass. A great match with cheese.
patricia pratt
(12/06/2021 at 4:42 PM)
such reliable quality...as always
Greg Thede
(14/06/2021 at 12:45 PM)
Good flavours with a dry finish. Even better than last vintage.
Neil
(03/11/2021 at 4:34 PM)
When I share this wine with friends up in QLD, not only I love it but they love it as well. I challenge them to a rough costing of the wine & I can tell you that not one person has come under $20.00 & some are in the $30.00 bracket. (Let's keep this a secret please)
Chris R
(22/02/2022 at 10:07 AM)
Best hidden white secret. Aromatic and fresh, great summer wine with food or cheese plate.
Richard Clark
(01/11/2022 at 7:52 PM)
Joe, I have bought a great deal of your wine. Very Good
Carol B
(20/11/2022 at 6:59 PM)
We love the Virginia Vineyard wines! Best kept secret!!
patricia pratt
(07/03/2023 at 8:32 AM)
Must be good! I have been buying it for years.
Steve W
(25/06/2023 at 5:59 PM)
This is an outside the box blend that just works. Whether you are a SB lover or a chardonnay devotee you will find something in this that appeals. Will this wine get accolades from the critics? Unlikely... Is this the best white you will taste this year? Probably not.... Is this the best value white blend in the county? If not an absolute yes then it comes close. Will you come back for more time after time? Absolutely. Nice work!
Glenys Williamson
(24/10/2023 at 5:32 PM)
Just finished our first bottle. Really terrific blend of wine.
bernard machliss
(17/11/2023 at 3:41 PM)
wonderful