La Casetta Aged Vinegar 375ml
The most fabulous vinegar I ever tasted was made by my grandfather, Adamo. He kept it in barrels in the front room of his 'casetta' (little house) and this is my unashamedly sentimental attempt at reproducing it.
The base wine comes from white grape juice that has been boiled in stainless steel tubs for many hours using the heat from a wood fire. When it cools, fermentation begins spontaneously to produce 'vino cotto' - a rustic, slightly sweet, sherry-like wine.
This wine is stored in half-full old oak barrels in the warm ambience of our vineyard shed. We then introduce a 'mother' culture of acetic bacteria which grows on the surface transforming it into vinegar.
The lingering madeirized and slightly sweet flavours of this strong vinegar instantly transforms any dish in which it is used. At home we use it mainly in the classic olive oil / vinegar / salt / pepper dressing for salads.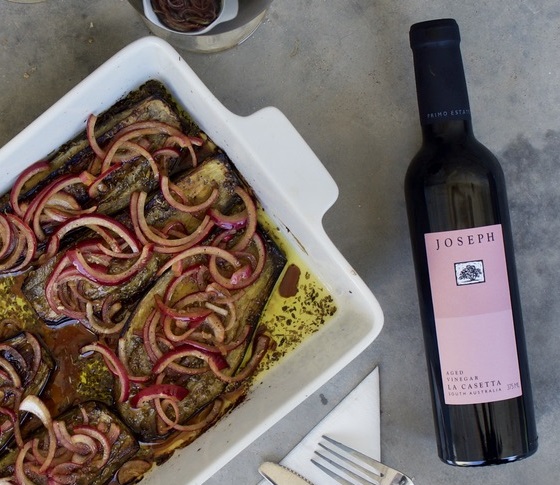 Enjoy a FREE bottle of Extra Virgin Olive Oil and FREE shipping with every straight or mixed dozen of Primo Estate or JOSEPH products.
Product Reviews
Joe Nittoli
(10/11/2015 at 7:31 AM)
exceptional vinegar brings an ordinary garden salad to life exquisite flavour with a superb finish "love it"
Virginia Urquhart
(28/05/2020 at 10:36 AM)
I use this vinegar regularly as it is so refined and gives extra zest to most dishes including a great dressing for my salads. I didn't realise how much I used my special vinegar until it ran out, it has become my "must have" pantry staple, Jim (Hubby) will be on an errand to Primo to get me more - also a fair price for its quality.
mark williams
(23/07/2021 at 10:40 AM)
I rarely cook without it. Brilliant for marinating strawberries.