Nero d'Avola 2020
SOLD OUT
Winemaker Joe Grilli fell in love with the Nero d'Avola grape during his trips to its Italian home in Sicily.
McLaren Vale's warm maritime climate is perfect for the rich, spicy Nero d'Avola grape. We use traditional open fermenters and seasoned oak barrels to make this tiny batch of wine.
This red combines pepper and liquorice on the nose with black plum and cherry flavours on the palate. A delicious, savoury style with a juicy core of McLaren Vale richness. This limited release won't last long!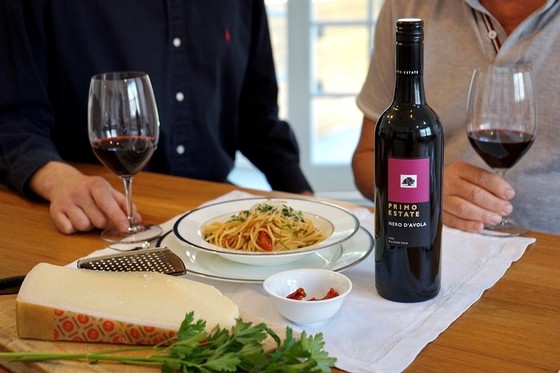 Enjoy a FREE bottle of Extra Virgin Olive Oil and FREE shipping with every straight or mixed dozen of Primo Estate or JOSEPH products.
Product Reviews
vincent cleary
(22/03/2021 at 7:01 AM)
It's as they say it is, nice and rich and full of berry. Good drinking now but should improve with some age. I would definitely buy again.
william Anderson
(22/03/2021 at 9:10 AM)
It a lovely smooth wine and fruity
Donald Quick
(22/03/2021 at 11:24 AM)
The best Nero d'Avola I have ever tasted.
David White
(22/03/2021 at 12:27 PM)
The second vintage of this wine is a ripper. The perfect easy drinking red. McLaren Vale is proving to be ideal for this variety. Sicily, beware!
Hugh Guthrie
(22/03/2021 at 8:11 PM)
Of course it's 5-star! Right up there with all the other wonderful Primo products that we know and love, and not too expensive to quaff enjoyably without the guilt over what you paid!
Michael Isles
(29/03/2021 at 7:06 PM)
I wouldnt expect anything else from Primo but a great drinking wine.
Peter Catt
(07/04/2021 at 6:55 PM)
This is one of my favourite grape varieties. Love the berry notes, the deep colour and the smooth effect on the palate. We have a few bottles that we will leave to age. On my watch list for next vintage
Bob Kershaw
(08/04/2021 at 8:47 AM)
First time I've tried this wine. Outweighed my expectations. Full of luscious fruit flavour and a lasting palate. Already reordered!
Veronica Sass-Nielsen
(23/04/2021 at 12:52 PM)
I am really enjoying drinking this delicious wine. So much so I am ordering more.
Joe Jakob
(18/05/2021 at 8:49 AM)
Really enjoyed the flavours, still a bit young but very nice