d'Elena Pinot Grigio 2023
I first planted Pinot Grigio in September 1998 - the week of my daughter Elena's birth.
Now, decades later, the Adelaide Hills vines produce a wine with fragrant notes of nashi pear, green apple and lemon jam.
I love making this wine for its vibrant flavours and elegant minerality.
These elements make it a great partner for seafood dishes like prawn & zucchini pasta.
Today, Elena works harvest, helping to make the wine we named for her.
Here's to living la dolce vita - cheers!

Joe Grilli
Owner & Winemaker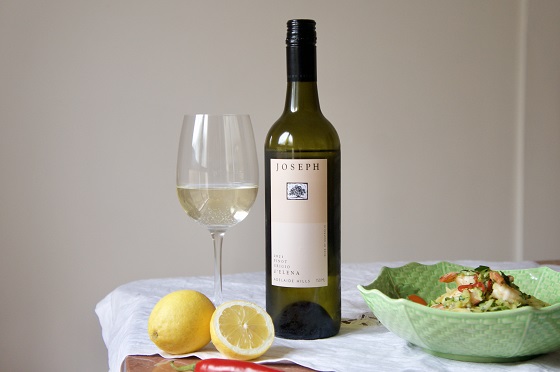 Enjoy a FREE bottle of Extra Virgin Olive Oil and FREE shipping with every straight or mixed dozen of Primo Estate or JOSEPH products.
Product Reviews
Dianna-Lee Daniels
(30/12/2020 at 7:19 PM)
Excellent cool climate white highly eecommend
Venette
(03/03/2021 at 9:21 AM)
Flavour is far superior to my previous favourite pinot gris! Regretful that I did not purchase more at the cellar door but excited for the 2021 version :)
Anne
(04/03/2021 at 5:40 PM)
Delicious, look forward to hearing when your new wine becomes available.
Adam Lovatt
(03/11/2021 at 11:04 AM)
This breaks out from the run of the mill Pinot Grigio and Pinot Gris on offer. Worth the extra money above those standard wines.
Allen Stanley
(17/01/2023 at 7:34 PM)
Why do wekeep coming back to this amazing Punit Grigio? Because it is so good.
jim Tzakos
(17/08/2023 at 9:41 AM)
Great wine. A crowd pleaser during Sunday afternoon gatherings. Converted non pinot Grigio drinkers along the way. It also rattles some of the Alsace wines I have tasted in the past. Awesome work by the Primo family.
Tracy Molloy
(31/10/2023 at 8:12 AM)
Just got 6 in our club delivery and 3 have disappeared in a week - it is so delicious! Absolutely recommend.