d'Elena Pinot Grigio 2020
An elegant Pinot Grigio from the cool McLaren Vale sub-region of Clarendon. Vibrant apple and pear aromatics with deliciously savoury mineral notes on the palate.
Joe Grilli, Primo Estate's owner and winemaker, named his Pinot Grigio 'd'Elena' as he planted his single hectare of Pinot Grigio vines the week his daughter Elena was born in 1998.
Twenty one years later, the vines have developed deep roots in the shale stone soil and produce a savoury Pinot Grigio with minerality and elegance.
The fruit is handpicked and very gently pressed before fermentation in stainless steel. The wine is bottled early to preserve the delicate fruit characters.
The d'Elena offers fresh citrus fruit acidity and light pear fruit. This wine's natural acidic balance and savoury mineral length make it perfect for seafood and light meats.
The JOSEPH d'Elena has been rated the #1 Pinot Gris from South Australia on The Real Review!
"A soft bouquet of citrus and yellow apples. The palate is dry, with flavours of sweet pear and lemon jam. My favourite feature is the texture, soft and slippery with racy acidity and a crisp finish" - Amanda Yallop, The Real Review, 2020.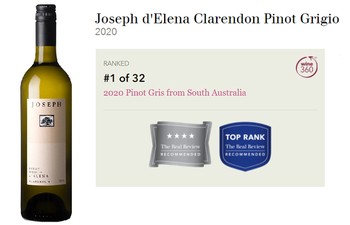 Enjoy a FREE bottle of Extra Virgin Olive Oil and FREE shipping with every straight or mixed dozen of Primo Estate or JOSEPH products.
Product Reviews
Dianna-Lee Daniels
(30/12/2020 at 7:19 PM)
Excellent cool climate white highly eecommend
Venette
(03/03/2021 at 9:21 AM)
Flavour is far superior to my previous favourite pinot gris! Regretful that I did not purchase more at the cellar door but excited for the 2021 version :)
Anne
(04/03/2021 at 5:40 PM)
Delicious, look forward to hearing when your new wine becomes available.