Prosecco NV Sparkling
Fine stone fruit and lemon marry well with delicate bubbles and crisp acidity. This savoury sparkling is mouthwatering and moreish.
"This is a fresh, crunchy, lively prosecco with just a touch of sweetness – hoorah! It's built around the varietal markers of nashi pear, lemon and a spicy edge reminiscent of rocket. It's about as well-crafted and delicious as prosecco can be. And refreshingly dry. King Valley, look out!" - Tyson Stelzer, The Australian Sparkling Wine Report
"It's a fizzy mix of stonefruit and lemon. Gobsmacking bang for your buck." - Katie Spain, The Sunday Mail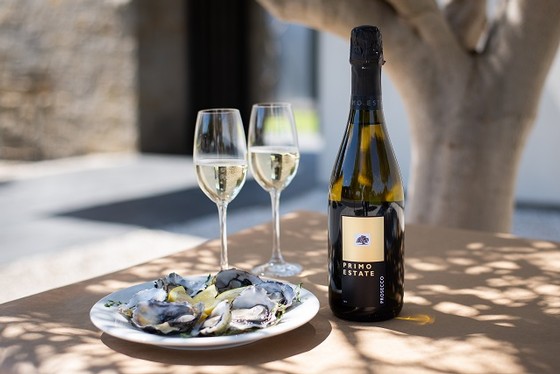 Enjoy a FREE bottle of Extra Virgin Olive Oil and FREE shipping with every straight or mixed dozen of Primo Estate or JOSEPH products.
Product Reviews
Jacqueline Crosby
(23/04/2020 at 9:03 PM)
We love, love, love this Prosecco! Bought 12 bottles for Christmas 2019 and absolutely enjoyed every drop. The colour is amazing, it's fresh but soft, not too many bubbles, aromatic, it's just lovely. We will definitely continue to drink this wonderful wine. Thank you Jo🥂😊🤗
Anne Cassebohm
(08/04/2021 at 10:54 AM)
A great easy drink. Light and fresh. The best Prosecco we have had. Purchased first in 2016.
Anil
(21/06/2021 at 11:31 AM)
I am usually red wine person, in my last visit at your cellar door, I tried the prosecco, I really enjoyed the taste. Btw, visiting your cellar door has always been an awesome experience. Thanks
Louise Gowers
(26/06/2021 at 9:37 AM)
This beautiful, sparkling Prosecco is my go-to choice summer and winter. The award is well deserved and we are so lucky to have this winery on our doorstep in McLaren Vale.
Catherine Ramponi
(28/06/2021 at 7:40 AM)
My absolute favourite Prosecco. Dry, plenty of bubbles, fruity fresh, pairs well with most meals. Have never been disappointed with a bottle of it.
Jacqueline Crosby
(28/06/2021 at 9:42 AM)
Another case gone, still amazing, still the best Prosecco we've had, who needs champagne when you can drink this beautiful wine. Thank you😊🥂
LARAINE
(01/07/2021 at 3:12 PM)
I was so disappointed, as after really enjoying the taste of Primo Estate Prosecco, I didn't order more quick enough, so have had to wait for the latest delivery. that will teach me to order immediately in future, now have some ready for my birthday and Christmas, may even share some with friends
JACINTA
(02/07/2021 at 8:19 PM)
simply the best
Susan Shopov
(04/07/2021 at 12:05 PM)
My favourite Prosecco. Beautiful family - thank you for your prompt service.
Philip Craig
(12/07/2021 at 2:01 PM)
An excellent Prosecco enjoyed straight, or as a mixer in an Aperol Spritz. Our favourite.
John Ashford
(18/07/2021 at 2:35 PM)
... an honest and palate-cleansing Prosecco --- suggestions of citrous zest serve to enhance this initial impression ... a drink for breakfast celebration or dinner parties aperitif ... excellent value!!!
Darelle
(14/08/2021 at 11:49 AM)
Absolutely love this! Great value!
Mel Berizzi
(17/08/2021 at 1:19 PM)
I love the clean fresh flavour of this Prosecco it reminds me of my father in laws property where they made their own
Sue
(04/11/2021 at 2:43 PM)
A beautiful clean, crisp drop and dangerously easy to drink. Spoil yourself.
Peter
(04/11/2021 at 3:13 PM)
Lovely fresh lively Prosecco with layers of flavour of citrus zest & fresh limes
jayne mcintosh
(05/11/2021 at 10:52 PM)
Best Prosecco one can lay their hands on. and the LaBiondina is a special favourite of mine for accompany just about everything
George Fernandez
(12/12/2021 at 4:29 PM)
Great prosecco, we love it with any food, fresh, zippy, right acidity, great value for money. My wife loves it, and it doesn't give her a headache ... I'd better don't talk too much, or it's going to be sold out.
Gwen Hannah
(21/12/2021 at 10:37 AM)
Loved it, going bak to get more.
Mal Sinclair
(23/12/2021 at 4:57 PM)
I was a bit unsure about ordering this product, but not only was it delivered in excellent time but oh my, what a beautiful tasting sparkling wine. I can thoroughly recommend it.
Madeleine VON MURALT
(25/01/2022 at 10:10 AM)
An excellent Prosecco, very balanced with just a hint of sweet, very much a favourite.
Tim Jackson
(21/02/2022 at 10:25 AM)
Get a delivery every couple of months! That says it all!
David
(08/03/2022 at 4:11 PM)
Love this sparkling gem. A real refresher
Graeme Wallace
(22/03/2022 at 9:10 AM)
This is the only Proseco that we drink as it can not be beaten