Apple and Olive Oil Cake Recipe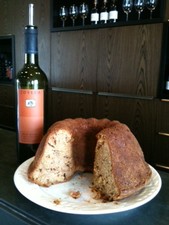 Recipe Date:
4 April 2013
Ingredients
380 g plain flour
400 g soft brown sugar
4 eggs
3 large apples peeled and chopped into roughly 1cm pieces
2 tsp cinnamon
3 tsp baking powder
1/2 tsp bicarbonate of soda
1/2 tsp salt
60 ml apple or orange juice
240 ml Primo Estate Olive Oil (use JOSEPH oil for a stronger olive flavour)
1 tsp vanilla essence
1 cup roughly chopped walnuts
Directions
Preheat oven to 180c. Combine apple pieces with cinnamon and 2 tablespoons of sugar. Sift the flour, baking powder, bicarb and salt together. In a seperate bowl combine the remaining sugar, juice, eggs, vanilla and olive oil then whisk until combined. Fold wet sugar and oil mixture through the flour mixture until combined. Fold in apple and walnuts. Pour the mixture into a large oiled bundt tin and bake for one hour until golden (check that a skewer comes out clean). Leave to cool for 30 minutes before turning out. Because of the olive oil this very moist cake can keep for around five days...but it seldom lasts that long!
Enjoy!
The Primo Team