Budino di Panettone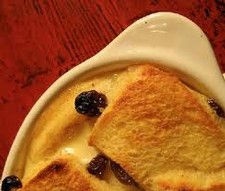 Recipe Date:
4 April 2013
Ingredients
700 g Traditional Panettone cut into 1cm thick slices
500 ml milk
500 ml cream
4 eggs
125 g sugar
Zest of 1 lemon
2 tablespoonfuls of JOSEPH Fronti (or Marsala if you don't have any Fronti)
2 tablespoons of rum
1 Cinnamon stick
Butter
1 teaspoon vanilla extract
150 g raisins or blueberries
Directions
Preheat oven to 170 degrees. Lightly grease a 1.5 litre ovenproof dish then layer overlapping slices of panettone with raisins or blueberries. Drizzle with the JOSEPH Fronti or a Marsala and the rum. Cover and set aside.
Place milk, cream, lemon zest and cinnamon stick in a saucepan and bring to the boil. Once boiled remove from the heat and strain to remove lemon and cinnamon. Whisk eggs, vanilla extract and sugar until pale. Combine the hot milk mixture and beaten eggs by whisking. Pour this over the panettone, pushing the slices down until covered by the egg and milk mixture. Place the dish on a large baking tray, pour boiling water into the tray until halfway up the side. Bake for 30 - 35 minutes until golden and custard is just set. Dust with icing sugar to serve.