Cabernet-Braised Osso Buco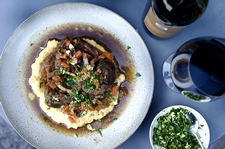 Ingredients
4 pieces of veal shanks, about 2 inches thick
Salt & pepper to taste
All-purpose flour, for dredging
4 tablespoons JOSEPH Olive Oil
1 onion, finely chopped
2 carrots, finely chopped
2 celery stalks, finely chopped
6 cloves garlic, minced
1 cup JOSEPH Moda Cabernet Merlot
2 cups beef or veal broth
2 sprigs fresh thyme
2 bay leaves
zest of 1 lemon
2 tablespoons fresh parsley, finely chopped
Directions
'Osso buco' translates to 'hole in a bone'. This dish uses a cut of veal shank with bone and marrow.
Ask your butcher for 'osso buco' - they'll know the perfect cut.
These meltingly tender veal shanks soak up the deep flavours of our Moda Cabernet Merlot.
We use a zesty Gremolata for added freshness and spice.
1. Pre-heat the oven to 160°C.
2. Season the veal shanks generously with salt and pepper. Dredge them in flour and shake off any excess.
3. In a large Dutch oven on the stove, heat the JOSEPH olive oil over medium-high heat.
4. Add the veal shanks and brown them on all sides until nicely seared. Remove the shanks from the pot and set aside.
5. In the same pot, add the chopped onion, carrots, celery, and 4 cloves minced garlic. Sauté until the vegetables are softened and lightly browned.
6. Deglaze the pot by pouring in the JOSEPH Moda Cabernet Merlot. Scrape the bottom to release any browned bits of vegetable. Let the wine simmer for a few minutes to reduce slightly.
7. Return the veal shanks to the pot and pour in enough broth to almost cover the shanks. Add the thyme sprigs and bay leaves. Bring the liquid to a simmer.
8. Cover the pot and transfer it to the preheated oven. Braise the osso buco for about 2 hours, or until the meat is tender and falling off the bone.
9. While the osso buco is cooking, prepare the gremolata by combining the lemon zest, 2 cloves minced garlic, and fresh parsley in a small bowl. Set aside.
10. Once the osso buco is done, remove the pot from the oven. Serve each piece of veal shank with a ladle of the braising liquid and vegetables. Sprinkle the gremolata over the top of each serving.
11. Serve the osso buco with risotto, mashed potatoes, or polenta to soak up the flavourful Cabernet sauce. Add a final drizzle of JOSEPH Olive Oil for added flavour.
Pour yourself a healthy glass of Moda and enjoy!