Fig and Almond Meringue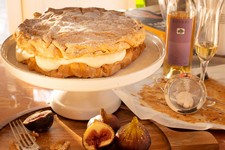 Ingredients
5 Egg whites
Caster sugar (3/4 cup)
JOSEPH La Magia Botrytis Riesling Traminer (1/3 cup)
Dried figs, chopped (1 & 1/2 cups)
Almonds, chopped (1 cup)
Low fat ricotta (250grams)
Vanilla yoghurt (1/2 cup)
Cream, beaten until thick (300mls)
Vanilla extract (1/2 teaspoon)
Icing sugar, sieved (2 teaspoons) plus extra for dusting
Directions
There are two elements to this dish: the meringue top and bottom, and the ricotta filling which holds them together.
Meringue
Soak the dried figs in JOSEPH La Magia Botrytis Riesling Traminer for 2 hours.
Preheat the oven to 220 degrees.
Grease and line two round tins – these will hold the meringue mixture.
Beat the egg whites until firm then gradually add sugar until the mixture is thick and glossy.
Fold the soaked figs and Almonds into the mixture.
Spread the mixture into the greased tins.
Place the filled tins into the preheated oven and immediately turn heat down to 160 degrees.
After 40 minutes, turn the oven off. Leave the meringues sitting with the oven door ajar until they cool down.
Filling
While the meringue is cooling, create the filling by beating the ricotta, yoghurt, vanilla extract and sugar together. Once you've formed a fine paste, mix in the thickened cream.
Finish by sandwiching the two meringues together with the ricotta filling.
Dust the top of the meringue with sieved icing sugar and serve on a single dish alongside the JOSEPH La Magia Botrytis Riesling Traminer. Enjoy!