Spaghetti alla Siciliana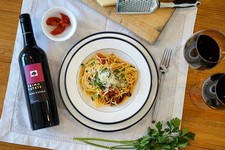 Recipe Date:
11 March 2021
Ingredients
500 g Spaghetti
250 g Sundried or Semi-dried Tomatoes, roughly chopped
3 cloves Garlic, crushed
1 handful Parsley Leaves, finely chopped
1 pinch Dried Chilli Flakes, or to taste
100 ml JOSEPH Cold Pressed Extra Virgin Olive Oil
Sea Salt & Black Pepper
1 Grated Parmesan
Directions
Bring a pot of water to boil and salt it. Once the water is boiling, cook pasta in the pot until al dente.
Sauté the sun-dried tomatoes, garlic, chilli flakes and half the parsley in a shallow pan. Use 50 ml of JOSEPH Cold Pressed Extra Virgin Olive Oil and keep the pan on gentle heat for 4 minutes or so.
Turn off the heat and season with salt and pepper. Drizzle a little more olive oil over the top of the sauté.
Once the pasta has cooked, drain it, add to the sauce and mix well.
Serve with fresh parsley and grated parmesan as pictured. Add lashings of JOSEPH Cold Pressed Extra Virgin Olive Oil to finish the dish. Buon Appettito!
The bold flavours of this simple Sicilian dish are a perfect match for our savoury, spicy Nero d'Avola.