Summer Tiramisu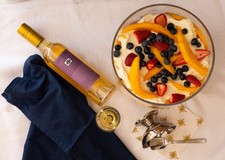 Recipe Date:
7 February 2019
Ingredients
300 g packet of Savoiardi (Ladyfinger Biscuits)
250 g Marscapone
250 g Greek Yoghurt
0.5 teaspoon of Vanilla Extract
500 g Frozen Mixed Berries, plus fresh to decorate top
1 Mango, peeled and sliced
3 tablespoons JOSEPH La Magia Botrytis Riesling Traminer
500 ml Cream, whipped
750ml Orange Juice
Directions
Combine the yoghurt, mascarpone and vanilla in a small bowl. Mix thoroughly.
Pour orange juice into a large bowl and soak the Savoiardi biscuits in lots of five at a time – the biscuits should be soggy but shouldn't fall apart as they are lifted out of the bowl.
Place a layer of the soaked biscuits at the bottom of your serving bowl, and sprinkle with one tablespoon of JOSEPH La Magia.
Add a layer of the yoghurt mixture.
Add a layer of berries and mango slices.
Repeat these last three steps until you have filled your serving bowl (or run out of biscuits!). Make sure the top is a biscuit layer.
Spread whipped cream on top and add fresh berries and mangoes to decorate.
Serve with a glass of JOSEPH La Magia and enjoy!