Zamberlan Cabernet Sangiovese 2022
This wine is named for my father-in-law, Rinaldo Zamberlan.
He grew up in the Veneto, Northern Italy - home of the famous ripasso winemaking technique.
In ripasso, fresh grape juice is fermented in contact with dried grape skins. The resulting wines are dark, complex, and intensely fragrant.
For years, Rinaldo told me to stop discarding the dried grape skins from our flagship red, the JOSEPH Moda, "they're perfect for ripasso!"
Finally, I took his advice. We made this wine using a blend of Cabernet and Sangiovese, co-fermented in the ripasso style with JOSEPH Moda skins.
The result is a smooth, full-bodied red wine with black currant, dark chocolate, and tobacco flavours. The Sangiovese adds a burst of savoury cherry to the wine's finish.

Joe Grilli
Owner & Winemaker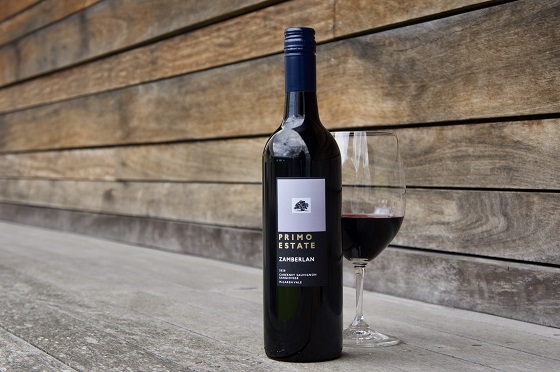 Enjoy a FREE bottle of Extra Virgin Olive Oil and FREE shipping with every straight or mixed dozen of Primo Estate or JOSEPH products.
Product Reviews
Judy & Peter Bowering
(24/03/2021 at 12:59 PM)
We have just finished our first bottle of Zamberlan from our latest delivery. WOW!
It is a very special (Veneto tradition) wine ........ we love it!
Graeme Wallace
(22/03/2022 at 9:08 AM)
This is a great wine and is highly recommended
Susan
(20/12/2022 at 7:39 PM)
Deliciously smooth
Gary Stevens
(08/03/2023 at 8:44 PM)
Very nice blend. One of my favourites
Peter Childe-Freeman
(27/03/2023 at 11:05 PM)
Flavourbomb. Absolutely loved it. Great easy tasting on the front with a powerful finish or fruit, cigar and vanilla. Beautiful colour and lovely on the nose
Greg Neave
(21/04/2023 at 8:18 PM)
This is my absolute favourite of the Cabernet/Sangiovese blends available in Australia.