First Run Extra Virgin Olive Oil 2021 750ml
The 2021 JOSEPH First Run has been made using a small batch of greener olives picked at the very beginning of our harvest. This low-yield crop is cold pressed and bottled immediately to capture the most intense characters of the new season.
The result is something to behold: a pristine oil with concentrated green banana and cut grass aromas; its crisp, fruit-driven flavours are followed by a clean peppery finish.
Here what chefs have to say about using JOSEPH Olive Oil:
"I love this Extra Virgin Olive Oil...it's peppery, it's delicious...especially on my green salad!" - Guillaume Brahimi, Bistro Guillaume
"JOSEPH Extra Virgin Olive Oil consistently delivers purity of flavour, texture and balance." - Neil Perry, Rockpool Restaurants
"JOSEPH Extra Virgin Olive Oil showed me what was possible for a benchmark oil in Australia." - Maggie Beer, Maggie Beer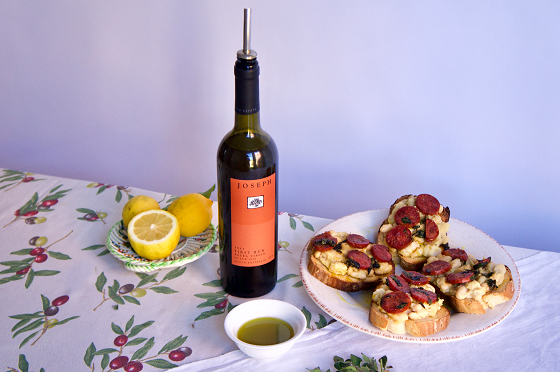 Enjoy a FREE bottle of Extra Virgin Olive Oil and FREE shipping with every straight or mixed dozen of Primo Estate or JOSEPH products.
Product Reviews
Kaye Ellis
(29/01/2015 at 12:08 PM)
Love olive oil I give it to everyone to try Love it love it The best
Anne H
(30/11/2015 at 8:49 AM)
The most magnificent oil for dunking with fresh bread A died and gone to heaven experience
Mary Ann Orr
(31/01/2020 at 4:15 PM)
Please notify when first run extra virgin olive oil is available for purchase.
Danielle
(30/03/2020 at 11:53 AM)
Please inform when the stock are available. Thanks
David Flint
(12/05/2020 at 7:56 AM)
Please notify when oil is available
Dascia Bennett
(18/11/2020 at 7:52 AM)
Excellent. Please contact me when product is back in stock.
Maggie Howard
(22/11/2020 at 9:31 PM)
Please let me know when you have Joseph first run olive oil available
Maggie Howard
(25/11/2020 at 7:26 PM)
Love to order more when you have stock thanks
Senada
(03/02/2021 at 3:20 PM)
the best olive oil for me