First Run Extra Virgin Olive Oil 2021 750ml
Never miss out on this olive oil again - join our mailing list and be the first to hear about the next release.
The 2021 JOSEPH First Run has been made using a small batch of greener olives picked at the very beginning of our harvest. This low-yield crop is cold pressed and bottled immediately to capture the most intense characters of the new season.
The result is something to behold: a pristine oil with concentrated green banana and cut grass aromas; its crisp, fruit-driven flavours are followed by a clean peppery finish.
Here what chefs have to say about using JOSEPH Olive Oil:
"I love this Extra Virgin Olive Oil...it's peppery, it's delicious...especially on my green salad!" - Guillaume Brahimi, Bistro Guillaume
"JOSEPH Extra Virgin Olive Oil consistently delivers purity of flavour, texture and balance." - Neil Perry, Rockpool Restaurants
"JOSEPH Extra Virgin Olive Oil showed me what was possible for a benchmark oil in Australia." - Maggie Beer, Maggie Beer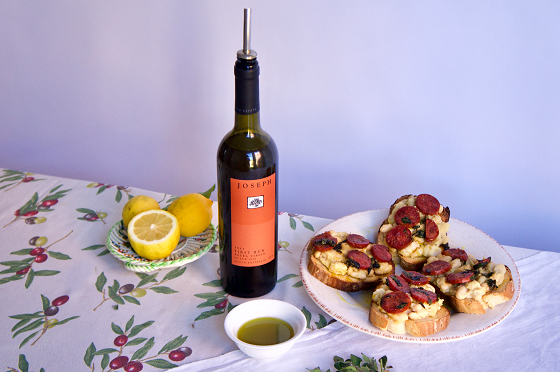 Enjoy a FREE bottle of Extra Virgin Olive Oil and FREE shipping with every straight or mixed dozen of Primo Estate or JOSEPH products.
Product Reviews
Kaye Ellis
(29/01/2015 at 12:08 PM)
Love olive oil I give it to everyone to try Love it love it The best
Anne H
(30/11/2015 at 8:49 AM)
The most magnificent oil for dunking with fresh bread A died and gone to heaven experience
Mary Ann Orr
(31/01/2020 at 4:15 PM)
Please notify when first run extra virgin olive oil is available for purchase.
Danielle
(30/03/2020 at 11:53 AM)
Please inform when the stock are available. Thanks
David Flint
(12/05/2020 at 7:56 AM)
Please notify when oil is available
Dascia Bennett
(18/11/2020 at 7:52 AM)
Excellent. Please contact me when product is back in stock.
Maggie Howard
(22/11/2020 at 9:31 PM)
Please let me know when you have Joseph first run olive oil available
Maggie Howard
(25/11/2020 at 7:26 PM)
Love to order more when you have stock thanks
Senada
(03/02/2021 at 3:20 PM)
the best olive oil for me
Richard SAMPSON GENEST
(02/08/2021 at 7:29 AM)
Consistently the most outstanding olive oil in Australia in my experience, and always my go-to for tantalising freshness, crisp, zesty fruitiness and sublime balance.
Teija Peura
(02/08/2021 at 9:09 AM)
Best olive oil I know - have faithfully ordered many bottles of this every year when the new harvest comes for sale for the last ten years or so... They always sell out so better to be prepared to last the whole year!
Susan Emmerton
(02/08/2021 at 1:46 PM)
So bloody good - kicking myself for not ordering more before it sold out.
Maggie Howard
(02/08/2021 at 3:11 PM)
This is 100%tops! I'm so grateful for receiving my recent order!🙏thank you, just love this delicious oil
John Mc Namara
(03/08/2021 at 11:49 AM)
My wife loves this so much she even uses it on her skin . We call it The Best Ever Oil and have a 6 bottle supply in our wine cellar until you send more . Yum
John L
(03/08/2021 at 1:24 PM)
The olive oil is absolutely fabulous!
I love my olive oil, I can say that yours ranks with the best. To gauge, I'm getting through a bottle of imported oil from Italy that's harvested from 100yo trees & yours kills it.
I've never had an olive oil that's addictive; now I'm a Primo oil junkie.
Carmel LICCIARDI
(03/08/2021 at 2:09 PM)
We have used this oil for quite a few years and we never look forward to running out and trying replacements. Hard to match