Il Briccone Shiraz Sangiovese 2022
In Italian, Il Briccone is 'the rogue' – a spirited, mischief-making rascal.
This wine is my mischievous blend of Shiraz and Sangiovese. 25 years ago, when I first dreamt up the wine, I was told that the combination would "only ruin great Shiraz fruit".
I was a young Australian winemaker with Italian parents. To me, the idea of blending classic grapes with exciting new Italian varietals made sense.
Since then, Il Briccone has grown in reputation to become our most popular red wine.
Today, we make it by crushing McLaren Vale fruit into open-topped concrete fermenters. We age the wine in seasoned oak barrels for one year before release.
This is a vibrant, full-bodied red brimming with plum, pepper, and spice. The Sangiovese adds a burst of cherry to the wine's savoury finish.
Il Briccone shines when poured alongside hearty, tomato-based cooking. We love serving it with my Mum's Polpette Recipe – meatballs in a rich tomato sauce.

Joe Grilli
Owner & Winemaker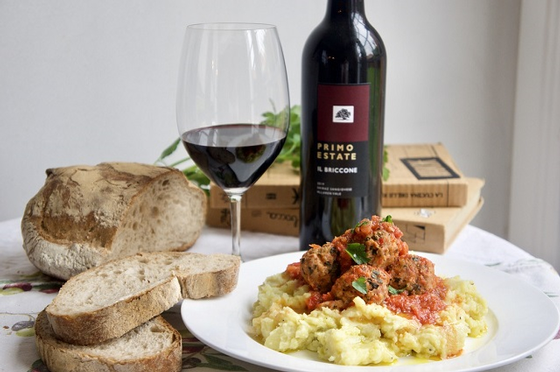 Enjoy a FREE bottle of Extra Virgin Olive Oil and FREE shipping with every straight or mixed dozen of Primo Estate or JOSEPH products.
Product Reviews
Amanda Wallace
(30/12/2014 at 5:07 PM)
Delicious! Full bodied, a little bit of spice but tastes fresh...doesn't weigh you down like some shiraz's can. Will definitely buy again.
Rodney Wilson
(21/12/2019 at 9:37 PM)
Was just given this wine in a Melbourne restaurant my new favourite wine it cut through the spicy meat dish and left a clean palate a case will be on order when i return home
Laura Taggart
(27/09/2020 at 10:38 PM)
So Yummy! Not as heavy as some Shiraz is, could easily drink through-out any occasion.
Oz Ostler
(28/02/2021 at 3:37 PM)
My favourite Primo wine.....along with the Nero D'Avola.....simply sensational value for money!
vincent cleary
(23/03/2021 at 6:51 PM)
Great wine, it seems to bring the best out of the Shiraz and the Sangiovese. It is described as rich and juicy and that is exactly what it is, great drinking now.
Peter Catt
(07/04/2021 at 6:57 PM)
A full-bodied wine. We enjoyed it with an Italian banquet. Loved the complexity on the palate. A stunning food wine
Vera Mills
(06/06/2021 at 10:38 AM)
We always love to get our regular delivery. Fantastic to serve when friends visit and just a wonderful wine to enjoy any time. Fragrant and full of delicious full bodied flavour. Just perfect. 🥰
Diane O
(28/06/2021 at 11:10 AM)
Love, love, love!!! What is there not to love about Primo? Amazing wine, amazing cellar door experience, amazing staff and the BEST olive oil around
Ray King
(16/07/2021 at 1:42 PM)
This is a wonderful rich red wine , great for those colder winter nights
mark williams
(23/07/2021 at 10:43 AM)
like the virginia SCM blend, quality @ an affordable price.
George L.
(29/07/2021 at 11:04 AM)
Easy drinking red - perfect with Italian. Outstanding value and very fast delivery direct to my door
George Fernandez
(01/08/2021 at 10:08 AM)
I really like this wine, and my friends like it even better. Full of flavour and very smooth. Every time I take a bottle to a get together the comments about how good is the wine just keep coming. Even one of them who never drinks always has a glass!
Mark Allstrom
(13/08/2021 at 3:17 PM)
My wife and I have been fans of this wine for years now. It is what we choose for special occasions.
Trevor Robinson
(06/09/2021 at 9:11 AM)
An absolute beauty, full bodied yet so easy to drink. Will definitely buy again.
Debra Vonthien
(10/03/2022 at 8:38 AM)
My all time favourite red wine, never disappoints
Ron
(13/03/2022 at 2:50 PM)
The wine we have everytime we fire up the pizza oven. The only exception being when we have The Tuscan
Adam Fletcher
(25/04/2022 at 10:22 AM)
Great tasting whilst at the cellar door- and looks great in the bottle- just waiting now for some cooler winter weather in topical Cairns to sit back and enjoy it with a home made wood fired pizza! hope its as nice as my first encounter with the '99 vintage"
Louise Duggan
(03/08/2022 at 5:24 PM)
Smooth on the palate, nice lighter style, Deep red colour. Bold and affordable. My kind of wine
Andrew Campbell
(18/01/2023 at 10:37 PM)
Our favourite red!
Tom Butterworth
(30/03/2023 at 7:26 PM)
From the UK, visiting Mclaren Vale, and I'm a big Chiant lover as well... As soon as I tasted this I knew I was taking several bottles home with me. That 15% ofSangiovese just takes the top off of the big tanin punch of the Shiraz, and mellows it out to make a great food wine, unlike anything else I've tasted. Marvellous.
Vince
(08/05/2023 at 5:31 PM)
Great value wine, rich cherry flavours, smooth on the palate
Gary Stevens
(02/07/2023 at 6:28 PM)
I would not normally drink this blend as I am not really a fan of shiraz, but the result is a smooth, easy drinking wine that slips down at an alarming rate.
Vasi
(20/08/2023 at 3:44 PM)
Not normally a red drinker but was convinced to give it a try at the winery during a tasting. So glad I did. Shared it with friends and totally missed out because they LOVED IT. Will re-order!