Il Briccone Shiraz Sangiovese 2020
SOLD OUT
Never miss out on this wine again - join our Primo Favourites Club to reserve your allocation today.
This rich Winter red delivers heady notes of plum, pepper and spice with a burst of cherry on the finish.
Il Briccone matches well with a wide range of dishes, but it shines when poured alongside hearty, tomato-based cooking. Our favourites include Pasta al Ragu, Braised Beef and Roast Lamb - buon appetito!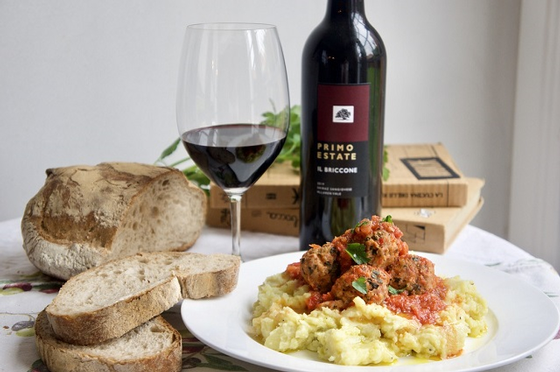 Enjoy a FREE bottle of Extra Virgin Olive Oil and FREE shipping with every straight or mixed dozen of Primo Estate or JOSEPH products.
Product Reviews
Amanda Wallace
(30/12/2014 at 5:07 PM)
Delicious! Full bodied, a little bit of spice but tastes fresh...doesn't weigh you down like some shiraz's can. Will definitely buy again.
Rodney Wilson
(21/12/2019 at 9:37 PM)
Was just given this wine in a Melbourne restaurant my new favourite wine it cut through the spicy meat dish and left a clean palate a case will be on order when i return home
Laura Taggart
(27/09/2020 at 10:38 PM)
So Yummy! Not as heavy as some Shiraz is, could easily drink through-out any occasion.
Oz Ostler
(28/02/2021 at 3:37 PM)
My favourite Primo wine.....along with the Nero D'Avola.....simply sensational value for money!
vincent cleary
(23/03/2021 at 6:51 PM)
Great wine, it seems to bring the best out of the Shiraz and the Sangiovese. It is described as rich and juicy and that is exactly what it is, great drinking now.
Peter Catt
(07/04/2021 at 6:57 PM)
A full-bodied wine. We enjoyed it with an Italian banquet. Loved the complexity on the palate. A stunning food wine
Vera Mills
(06/06/2021 at 10:38 AM)
We always love to get our regular delivery. Fantastic to serve when friends visit and just a wonderful wine to enjoy any time. Fragrant and full of delicious full bodied flavour. Just perfect. 🥰
Diane O
(28/06/2021 at 11:10 AM)
Love, love, love!!! What is there not to love about Primo? Amazing wine, amazing cellar door experience, amazing staff and the BEST olive oil around
Ray King
(16/07/2021 at 1:42 PM)
This is a wonderful rich red wine , great for those colder winter nights
mark williams
(23/07/2021 at 10:43 AM)
like the virginia SCM blend, quality @ an affordable price.
George L.
(29/07/2021 at 11:04 AM)
Easy drinking red - perfect with Italian. Outstanding value and very fast delivery direct to my door
George Fernandez
(01/08/2021 at 10:08 AM)
I really like this wine, and my friends like it even better. Full of flavour and very smooth. Every time I take a bottle to a get together the comments about how good is the wine just keep coming. Even one of them who never drinks always has a glass!
Mark Allstrom
(13/08/2021 at 3:17 PM)
My wife and I have been fans of this wine for years now. It is what we choose for special occasions.
Trevor Robinson
(06/09/2021 at 9:11 AM)
An absolute beauty, full bodied yet so easy to drink. Will definitely buy again.