Polpette Al Sugo - Meatballs in Hearty Tomato Sauce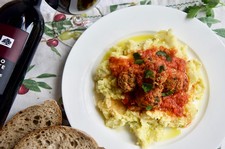 Ingredients
500 g Minced Pork
500 g Minced Veal
1 bunch of Parsley
1 Egg
2 cloves of Garlic
grated Nutmeg
Salt & Pepper
1 Onion
1 Red Capsicum
2 tins Chopped Tomatoes
4 heaped tablespoons of Breadcrumbs
Directions
Finely chop 2/3 bunch of parsley and 1 clove of garlic, then combine with the pork and veal mince.
Grate in nutmeg, add egg, breadcrumbs, and mix together.
Add salt and pepper to taste, then use hands to shape the mixture into golf-ball sized polpette (meatballs).
Finely chop the onion, remaining garlic clove, and capsicum and then fry in a pot with olive oil until soft.
Add polpette and cook until browned all over.
Add canned tomatoes, the remaining parsley and a pinch of salt. Let simmer for 45 minutes.
Serve with mashed potatoes, polenta or pasta. Drizzle with JOSEPH Extra Virgin Olive Oil to take this dish to the next level!
Our Il Briccone Shiraz Sangiovese is the perfect match for this hearty recipe - the full, spicy flavours of this McLaren Vale red compliment the texture and savouriness of Polpette al Sugo!