Moda Cabernet Sauvignon Merlot 2019
SOLD OUT
This wine is made from air-dried grapes using the 'Moda', method, of the famous Italian Amarone wines.
Winemaker Joe Grilli was the first to pioneer this technique outside of Italy, and for over thirty years this has been his signature, most collectible wine.
Fermenting the partially dried berries creates brooding, opulent red wine with decades of age potential. The bouquet is intense, with notes of of blackcurrant fruit, raisin, cigar box and dark cocoa.
"Moda is simply one of Australia's finest Cabernets." Andrew Caillard MW, Langton's.
"...the freshness of the berries and late-summer blackberries binds itself into a richness of prunes and fig syrup and chocolate, while the sweet-sour, cream-curdling acidity of plum skins resonates like a taut guitar string and the tannin is as grippy yet affectionate as the lick of a cat's tongue." Oz Clarke, Red & White – An Unquenchable Thirst For Wine.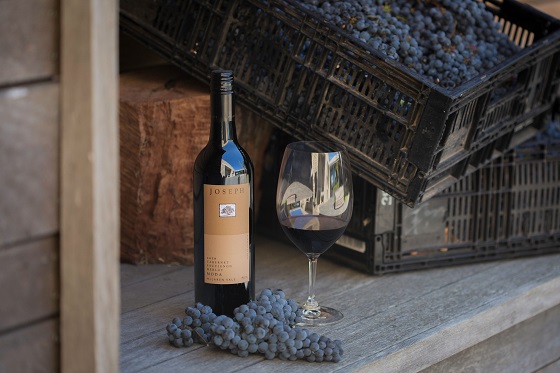 Enjoy a FREE bottle of Extra Virgin Olive Oil and FREE shipping with every straight or mixed dozen of Primo Estate or JOSEPH products.
Product Reviews
Susan Rowe
(05/07/2015 at 6:59 AM)
A stunning wine. Just gorgeous and what one can always expect from the superb Joseph range.
Brian Mahoney
(19/07/2015 at 2:04 PM)
One of the richest wines I've tasted. This one is going in the cellar for my granddaughter's 21st in 34 year's time. Hope I'm still around to savour it then!
Venette
(03/03/2021 at 9:26 AM)
So much flavour!
mark williams
(23/07/2021 at 10:45 AM)
not cheap but great to pull out for that special occasion.