Virginia Vineyard Shiraz Cabernet Merlot 2020
SOLD OUT
A generous, warm-hearted red wine with a long, velvety finish.
12 x 750ml bottles
We started making the Virginia Vineyard Red over 30 years ago for a single reason - Life is too short to drink anything other than great wine. Our aim is to provide a delicious red wine at an everyday drinking price.
Named after our original family vineyard planted at Virginia, just north of Adelaide in South Australia. We source the fruit from Primo Estate's Virginia and McLaren Vale vineyards plus selected local growers.
Abundant sunshine and the afternoon sea breezes sweeping off St Vincent's Gulf combine to produce the base for this generous, warm-hearted red.
We use a proven blend of Shiraz, Cabernet Sauvignon and Merlot to create a harmonious, mouth filling style. Following blending, we age in older American and French oak barrels to marry the components and impart a mellow, lingering oak character.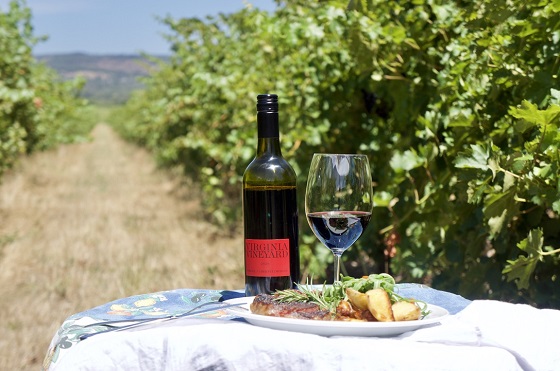 Enjoy FREE Shipping when you order 5 cases or more of any Virginia Vineyard product.
We GUARANTEE your satisfaction - if you do not LOVE your Virginia Vineyard order, we will refund the full cost of the wine.
Product Reviews
carolyn lane
(22/02/2015 at 3:53 PM)
This is a beautiful wine, the taste is amazing.
Jacqui
(02/03/2015 at 7:53 AM)
Bought a dozen , after the first bottle we ordered another dozen! Awesome wine.
Raj
(02/03/2015 at 11:43 AM)
Fantastic wine at an awesome price..bought a few cases to share with friends and everyone has given it 2 thumbs up. I would gladly pay $15-18/- for this wine. Very smooth medium body everyday drinking wine.
VIRGINIA & JIM
(05/06/2015 at 5:48 PM)
Just poured a glass, smelt the aroma and was most surprised at the smoothness and fine fruit flavour of this lovely wine - also has my name lol
Cog
(13/06/2015 at 9:20 AM)
Excellent rating for price and quality. Full bodied and great structure. So often "cheap" wines are thin and acidic. Great fruit and tannin and good drinking for now. Have purchased in the past and left for a year or so - I know how even better it gets after a rest. THanks for a great wine at a very reasonable price. I'm passing on the good news to friends!
Phil
(16/06/2015 at 8:12 AM)
Good
Martin
(14/08/2015 at 9:32 AM)
I've purchased this product a few times and have never been disappointed. As a stand alone wine it is pretty good but for the price it is excellent. So often cleanskins are limp and insipid but this is full bodied, juicy and mouth filling. Terrific every day drinking.
Nic
(25/08/2015 at 10:30 AM)
Primo shiraz/Cab/Merlot cleanskin is everything all the other reviewers have said and more. While a blend, the shiraz is dominant, but not overpowering. The cab adds body and the merlot adds smoothness. Normally not a merlot drinker, this is subtle and the ladies like the smoothness. A great everyday wine, always on the kitchen bench, not for the cooking, for the cook! Make sure you serve it at room temperature, at least 20Deg C. Not so easy this winter. Just bought another 10 dozen. Thanks Joe, Richard & the team at Primo.
Kate
(23/09/2015 at 7:03 AM)
An excellent wine for everyday drinking. It is, as described, smooth and medium bodied and not thin as in many cleanskins. Terrific value!! I have purchased now for a few months and have passed on my recommendation to friends.
jack
(27/09/2015 at 11:55 AM)
we always stock up on this before we finish our previous cases. It's too good to be without
Sue
(15/10/2015 at 10:38 AM)
The value is second to none for a wine of this quality. I have recommended to friends.
Clare besly
(25/10/2015 at 8:27 PM)
This wine is great value for money. Lovely smooth blend for every day drinking.
Carmel and Perry
(27/10/2015 at 1:04 PM)
My husband and I received our order a couple of weeks ago and it blew us away how good this wine was. It is so smooth and has a beautiful aroma. For the price we were not expecting such an excellent wine. It is that good we have ordered another dozen. We cannot wait for it to arrive and share it with our family and friends.
Andy Forrest
(27/10/2015 at 6:58 PM)
Typical Primo Estate quality,fruit driven with balance and drinking beautifully now!Huge value,this cleanskin punches far above it's weight.bk0chd
JoeP
(28/10/2015 at 12:57 PM)
Bought 2 cases and followed up with another 5.... My friends who have tried it , love it! To me it's simply a quality product from one of the best wine makers around.. And for the price...amazing!
Dunc
(02/11/2015 at 5:53 PM)
I love this wine, year after year, vintage after vintage. Its hard to go past for an everyday tipple.
Tony Waller
(04/11/2015 at 11:23 AM)
My purchase amounts keeps increasing as friends who try the wine want some also! I have been buying Primos red for over 15 years and have never been dissapointed. If I have just let it age a few months and is always lovely. Customer service is always very good with quick delivery.
Paul Hector
(18/11/2015 at 8:39 AM)
Bought a dozen then upgraded to 10 dozen to share with our friends A fantastic well blended wine Delivery within 48 hours too Bring on more quality wines like this
Rob & Sharon
(23/08/2016 at 5:58 PM)
After visiting the winery in January we were extremely impressed with the wines and wine tasting presentation. We found this wine while searching the website and decided to buy a dozen.We were so impressed that are about to make our third order before the last bottles are finished. The best wine i have tasted for the price.
Jeff
(10/11/2019 at 5:17 PM)
This wine is a great buy. It's mellow and smooth and well worth the money. It's the first time I have tried it as I usually drink Shiraz but it was a lovely surprise.
Richard Clark
(17/05/2020 at 9:24 AM)
I must be the oldest fan. 150,200 cases? I don't know. But beware price hikes
Richard Clark
(17/05/2020 at 9:30 AM)
I must have bought 150-200 cases!! Says it all.
Jonathon Wedge
(18/05/2020 at 12:49 PM)
Delicious, easy drinking red. Its price makes it dangerously easy to justify opening another bottle for dinner.
stephen
(13/08/2020 at 2:21 PM)
been getting these since 2004 and have never been disappointed
Linda
(13/08/2020 at 7:13 PM)
Incredible value for a great tasting wine. So excited to have another opportunity to buy some more after the last bottling sold out. Definitely stocking up on more this time around!
Mark
(27/02/2021 at 10:13 AM)
Gorgeous wine. Everyone's favorite.
Sheila Moffatt
(01/03/2021 at 7:10 AM)
I've been buying Primo estate wines for over 40 years. We used to buy bulk and bottle ourselves.Virginia Vinyards is a much easier way to buy your wine. We've always bought it untasted and have never been disappointed.
Bushman's Arms Hotel
(01/03/2021 at 9:26 AM)
Bought 4 doz last year 5 doz this year Brilliant value
mark williams
(01/03/2021 at 10:51 AM)
I enjoy the entire Primo range but the SCM blend is the best value for price.
Tania
(01/03/2021 at 1:19 PM)
Consistently great quality wine with the most amazing service to match. Love supporting a local family owned business.
Ron F
(01/03/2021 at 5:44 PM)
A wonderful tasting experience. The flavours slightly change to my palate as the level falls and, as expected, this year's drop does not disappoint. Great value for this wine. Bravo.
Rob Nicholls
(02/03/2021 at 9:46 AM)
Very nice, affordable red. Typical Primo tasty and full-bodied.
Tim
(02/03/2021 at 10:16 AM)
This wine is like the Spanish Inquisition. Totally unexpected, It's stacks up exceptionally well against mclaren vale shiraz at twice its price. A wonderful full bodied chocolate surprise.
grant
(02/03/2021 at 11:06 AM)
this is a very good easy drinking wine that goes well with or without food.
Peter R
(02/03/2021 at 3:51 PM)
This year's vintage does not disappoint. Chocolate with a hint of spice
Mike
(02/03/2021 at 8:15 PM)
We love this wine. Only started purchasing it last year and we are now into our sixth case with more in the cellar. Unbelievable low price but excellent moorish wine. Will always make sure we have a good supply on hand.
Peter
(03/03/2021 at 1:23 PM)
A beautiful wine and amazing value!
edgar bolton
(09/03/2021 at 2:50 PM)
really enjoyable wine ,will be back for sure
Barbara
(09/03/2021 at 5:41 PM)
Delicious, great value for money and quick delivery. Sitting right now enjoying a glass for Sundowners. I never hesitate to recommend your winery. Great people great wine.
David D
(10/03/2021 at 10:35 AM)
Fantastic value for money. Fruit driven with soft tannin structure. Will drink well while waiting for the next vintage
John Ashford
(10/03/2021 at 11:08 AM)
fragrant bouquet heralds the delights ahead ... full-bodied, and nicely rounded, with some pleasing chocolate and licorice notes, this wine has a depth and complexity not expected at this price point.
Bob
(12/03/2021 at 8:55 AM)
I was hesitant because the wine was only 1 year old. But I was astounded by the quality and drinking enjoyment. It was just so good with a good price. I bought a dozen. Today I tried to order 2 dozen, but it's all gone. I will definitely be buying more next year.
Eddie White
(13/03/2021 at 10:59 AM)
I must admit to a bit of buyer remorse. I fell for the ad on FB and based on Primo Estate's reputation bought a box. My heart sank a bit when the box arrived and I saw "2020" on the outside. I had never bought a one year old red before. My fears were allayed when I opened I poured it - good colour, good nose and just so damned slurpable. Not necessarily a wine to discuss but one to enjoy and one that punches well above its weight division.
Merv Roberts
(15/03/2021 at 10:32 AM)
First time trying the SMC and very happy with the product.Will definitely buy more in the future.
Rob Hollonds
(12/06/2021 at 5:41 AM)
Soft, easy to drink, no sharp edges. Can be difficult to find an easy drinking red at this price point. I've been a repeat buyer for many vintages. No fails.
Mark
(12/06/2021 at 7:17 AM)
Yet another spot-on vintage. Thanks again, Paul for introducing this to us 12 years ago. It's thoroughly dependable as our go to wine. We find ourselves waiting for the next delivery whilst having to taste other ( more expensive) disappointing wines. Thanks.
John Cecchin
(12/06/2021 at 8:07 AM)
great wine excellent
Ann & Justin
(12/06/2021 at 8:07 AM)
We have been subscribers for many years now - value and quality are always 5 star!
Elizabeth
(12/06/2021 at 10:44 AM)
Have been buying since sold in Home Bottling Casks. Never a bad vintage. Highly recommended
Rod Cameron
(12/06/2021 at 1:36 PM)
A great tasting wine and great value for money. I've been buying it for years.
Narelle McLachlan
(12/06/2021 at 1:42 PM)
If I'd known how good this vintage was, I would have ordered 3 dozen instead of 1 and now it's all sold out!
George Fernandez
(12/06/2021 at 4:09 PM)
You are not going to get a better red at this price anywhere. Nice drop, good balance, my wife likes it a lot (and that's good!). I buy this wine every time I can, and this wine had led me to be a member of this winery and buy their other products. Spot on.
Terry Waterson
(13/06/2021 at 12:05 PM)
My "go to" wine for several years, thank you Primo team
chris meldrum
(13/06/2021 at 1:02 PM)
Simply a great drop. You will not find a better red at this price point anywhere else - I challenge you!
Lynette L
(14/06/2021 at 4:32 PM)
Scrumptious wine
Russell Clark
(14/06/2021 at 5:07 PM)
Excellent wine at the right price.
Louise
(14/06/2021 at 10:03 PM)
Delicious wine at a great price. Tasty and easy to drink.
Mark F
(22/06/2021 at 12:34 PM)
We l o v e this wine! The only problem is my wife won't drink anything other wine now. Now she will only drink Virginia Red. OK for me! :-)
Gerard C
(03/11/2021 at 7:51 AM)
Stunning. Best value red in Australia - no doubt.
Gretel
(03/11/2021 at 3:31 PM)
Our favorite, reliable, daily wine. My only complaint is that I can only get 1 case at a time.
chris meldrum
(03/11/2021 at 8:02 PM)
No wonder this wine sells out so quickly - it's simply delicious and unbeatable value.
Vivienne Williams
(04/11/2021 at 2:06 PM)
Great taste, great value and I enjoy every drop and now all my friends buy it too.
Marjorie Hewitt
(05/11/2021 at 9:45 AM)
You are right Joe, 'Life is too short to drink anything other than great wine' - and that is just what you have provided us all with. Thank you.