The Tuscan Shiraz Sangiovese 2022
Last year I journeyed to Italy to make my ultimate Italian red wine - The Tuscan Shiraz Sangiovese.
'Sangiovese' is Tuscany's traditional red grape. In this wine, I've combined it with a rare parcel of Italian Shiraz from Cortona, in the hills near Siena.
I made the wine at a friend's winery - Stefano Amerighi. Stefano and I had endless fun comparing Shiraz wines from Tuscany and McLaren Vale.
This is a savoury, medium-bodied red with lashings of dark cherry and plum fruit.
At home, we've been enjoying The Tuscan with my White Bean Stew with Pork and Fennel Sausage recipe. This hearty dish is a favourite for Italian reds.
Life's too short to drink anything other than great wine!

Joe Grilli
Owner & Winemaker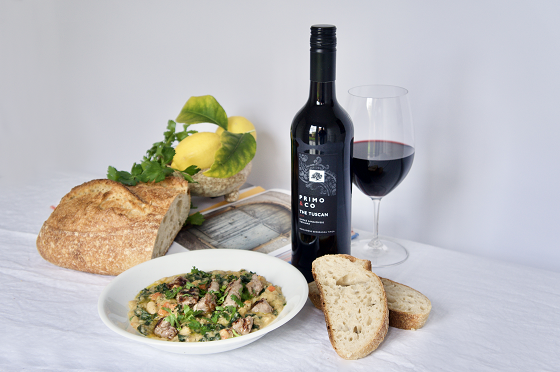 Enjoy a FREE bottle of Extra Virgin Olive Oil and FREE shipping with every straight or mixed dozen of Primo Estate or JOSEPH products.
Product Reviews
Philip Berner
(09/06/2021 at 7:56 PM)
I'd buy this wine if my wife would let me
Fay Peters
(26/06/2022 at 8:19 PM)
This wine arrived in time for a Saturday Night Dinner. It was fabulous. Full of rich rounded flavour, smooth finish, great colour and nose. Highly recommended. I will re-order.
Jonathan
(02/08/2022 at 5:14 PM)
Beautiful nose, great legs. A deep rich flavour. I loved it.
Simon Bryant
(12/09/2022 at 5:30 PM)
Love this wine: great value and perfect bookend with Il Briccone
jasecarr
(15/09/2022 at 4:25 PM)
Its almost gone, I need more, well done team, keep up the fab work
Anthony (Tony) Ferguson
(23/09/2022 at 7:58 PM)
Great wine. Great flavour.
Margaret Francis
(16/11/2022 at 7:41 PM)
one of my faves, great wine. love it,
Andrew Campbell
(18/01/2023 at 10:36 PM)
Another quality drop from Primo