Dina Grilli's Moroccan Inspired Roast Chicken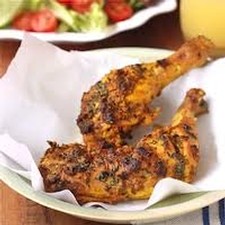 Recipe Date:
4 April 2013
Ingredients
5 chicken marylands - divided in two, separating the drumstick from the thigh
2 cloves of garlic, finely grated
1/4 preserved lemon, remove the flesh and pith, rinse and dice finely
1 heaped teaspoon ground turmeric
1/4 teaspoon ground cinnamon
1 heaped teaspoon ground ginger
1/4 teaspoon smoked paprika
1/2 teaspoon sweet paprika
1 & 1/2 teaspoons ground cumin
1/2 teaspoon freshly ground black pepper
1/2 teaspoon sea salt
Juice of 1 lemon
JOSEPH Extra Virgin Olive Oil
Directions
Heat a fan force oven to 180°c and place baking paper on the bottom of a tray. Mix the spices, garlic and lemon then add enough olive oil to make a loose paste. Rub the paste thoroughly into the chicken pieces. Place the chicken in the baking paper lined tray and cook for 45 minutes.
We pair this dish with the Primo Estate Il Briccone Shiraz.