Le Marche Fish Soup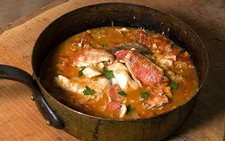 Recipe Date:
9 April 2013
Ingredients
0.21 kg mixed fish and shellfish
3 celery sticks, coarsely chopped
1 large onion, coarsely chopped
2 large cloves of garlic, chopped
1 chilli (optional), chopped
1 carrot, chopped
Italian Parsley, one large bunch finely chopped
White wine, half a bottle Primo Estate La Biondina
Vinegar – half a cup preferably JOSEPH La Casetta Aged Vinegar (NOT balsamic – too dark and heavy!)
Pickled veggies ('giardiniera') or pickled gherkins coarsely chopped (Mrs Grilli's secret ingredient!)
A splash of sherry or sherry like wine preferably dry
500 ml fish stock
1 Chopped tomatoes (400g tin)
JOSEPH Extra Virgin Olive Oil
Directions
In a large high sided saucepan add half a cup of the JOSEPH Extra Virgin Olive Oil and sauté the celery, onion, carrot, half the parsley and chilli (optional) on medium heat for two minutes till soft. Add in the garlic and sauté for a further minute. Push the mixture to one side of the pan and sauté the squid for a minute till white, then remove the squid pieces to a bowl.
If you have blue swimmer crab then cook in the same way as the squid till red all over. Leaving the crab in the pan add the splash of sherry wine and mix the pan ingredients to evaporate the wine for 30 secs. Remove the crab to the same bowl as the squid.
Add the tin of chopped tomatoes to the saucepan mixture and stir in the vinegar, white wine and pickled veggies. Bring the pan to a simmer and add back the squid, crab and then each of the different kinds of fish one at a time adding the mussels/cockles last. Add the fish stock, salt and pepper to taste and simmer the whole lot for about 15 min. Take off the heat and stir in the remaining parsley. Drizzle the half cup of JOSEPH Extra Virgin Olive Oil over the top before serving with plenty of crusty bread on the side.