Pissaladiere - Onion, Anchovy and Black Olive Tart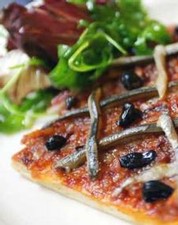 Recipe Date:
7 August 2013
Ingredients
2 tbsp JOSEPH Extra Virgin Olive Oil
3 medium brown onions
2 large cloves garlic, thinly sliced
3 sprigs fresh thyme
1 tin high-quality Italian diced or cherry tomatoes
250 g basic bread dough (available most supermarkets)
12 flat anchovy fillets, rinsed and drained. Ortiz are the best, and are available from Simon Johnson and other fine food retailers.
12 cured olives, pitted and halved
Directions
Heat the JOSEPH Olive Oil in a large skillet over medium heat. Add the onions, garlic and thyme and toss to coat with the oil. Cover and reduce heat. Cook around 20 min, stirring occasionally, until the onions turn a light golden colour. Stir in the tomatoes, raise the heat and cook until the liquid has evaporated and the mixture thickens, or about 5 minutes. Discard thyme sprigs.

Preheat oven to 220 degrees celsius.

On a lightly floured surface, roll out the dough into a 25x30cm rectangle. Transfer to a baking sheet, cover and allow to rest for 15min.

Spread the onion-tomato sauce evenly over the bread dough. Arrange anchovies in a pattern over the top and sprinkle olives around. Ask your children do do this part! Season with sea salt and allow to stand for 15 min. Bake the passaladiere until the crust is crisp, 15 to 20 min. Remove from the oven and allow to cool before slicing and serving with a fresh green salad.