Polenta and Ricotta Cake with Red Wine Peaches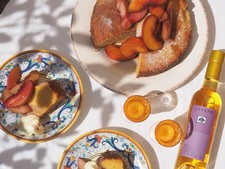 Recipe Date:
2 December 2020
Ingredients
6 large peaches - yellow, white or both
8 cloves
4 tablespoons brown sugar
4 cups of Primo Estate Merlesco Merlot
1 cinnamon Stick
120 g honey
150 g softened butter & extra for greasing
1 finely grated rind of one lemon
6 eggs, whites and yolks separated
400 g ricotta
200 g almond meal
180 g fine polenta
110 g caster sugar
Directions
Method
Red Wine Peaches
The peaches need to be marinated for 12+ hours, so it's best to begin them the day before baking.
Cut the peaches into thick wedges and place into a large bowl. Add the brown sugar, cinnamon, cloves and 'Merlesco' Merlot, and carefully mix making sure each slice is coated.
Cover the bowl and leave to sit in the fridge for 12+ hours overnight.
Ricotta & Polenta Cake
Preheat oven to 150°C and butter the base of a 26cm diameter cake tin and line it with baking paper.
Beat the butter, honey and lemon rind in an electric mixer until light and fluffy (4-5 minutes).
Scrape down the sides of the mixture bowl and then add yolks one at a time, beating well between additions.
Transfer the mixture to a larger bowl, fold in ricotta, then almond meal, polenta and a pinch of salt.
Whisk eggwhites and a pinch of salt in an electric mixer to soft peaks, then gradually whisk in 110gm sugar and whisk until glossy (1-2 minutes).
Fold the eggwhite mix into the ricotta mixture and then spoon the combined batter into the cake tin. Make sure to smooth the top.
Bake until golden and a skewer withdraws clean (45-50 minutes). Remove from oven and pierce all over with a skewer.
Serve warm with plenty of red wine peaches, a dollop of marscapone and chilled glass of the JOSEPH La Magia. Make sure to drizzle the peach syrup all over the cake as a final touch!