Porcini & Cacao Risotto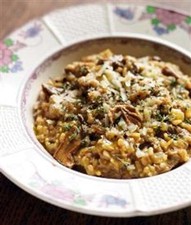 Recipe Date:
4 April 2013
Ingredients
2 tablespoons grated Willie's Cacao (stocked in David Jones or *buy direct online)
100 g dried porcini mushrooms, finely chopped
4 - 5 tablespoons of 2012 JOSEPH First Run Extra Virgin Olive Oil
1 finely chopped onion
3 finely chopped cloves of garlic
25 g butter
250 g arborio rice
1 l hot chicken or vegetable stock
Sea salt and freshly ground black pepper
Freshly grated parmesan cheese to serve
Directions
Place the porcini mushrooms in a small heatproof bowl. Cover with boiling water and let stand for at least 20 minutes.
Heat the oil in a large pan. Add the onions and garlic and fry gently for 3-4 minutes. Stir in the butter until melted then stir in the rice. Tip in the porcini along with the soaking liquid (Andrew recommends straining through muslin). Simmer gently, stirring constantly until the liquid is absorbed. Add the hot stock a ladleful at a time, stirring constantly until all the liquid has been absorbed before adding more. Continue until all the stock is used up or the rice is plump and tender.
Finally, stir in the cacao and season to taste. Serve drizzled with JOSEPH Extra Virgin Olive Oil and topped with grated parmesan cheese.
Enjoy!
The Primo Team