Roast Eggplant with Aged Vinegar Glaze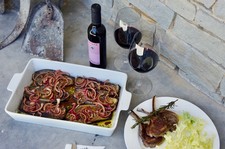 Recipe Date:
26 February 2021
Ingredients
2 Large Eggplants
1 Red Onion, cut in half then thinly sliced
50 ml La Casetta Aged Vinegar
1 clove Garlic, crushed
2 tablespoons Dried Oregano
Salt & Pepper
JOSEPH Extra Virgin Olive Oil
Directions
Trim the edges from the eggplant and cut lengthways into long, thin pieces as pictured.
Place the onion and JOSEPH La Casetta Aged Vinegar in a bowl, mix and leave to marinate for at least 15 minutes.
Drizzle the JOSEPH Cold Pressed Extra Virgin Olive Oil in a large shallow baking dish. A thin layer of oil should cover the bottom of the dish.
Sprinkle the dried oregano over the oil.
Take a piece of cut eggplant and dip it into the baking dish so that the oregano/olive oil mixture covers one side. Then flip the piece of eggplant so that the 'dipped' side is facing up in the tray, as pictured. Oil should now coat both sides of the eggplant. Repeat for all slices until the tray is full.
Cook the eggplant tray by placing in a 180 degree oven for 15 minutes.
Add 50ml JOSEPH Olive Oil and crushed garlic to the vinegar/onion mixture. Add salt and pepper to taste, then combine the mixture.
Take the eggplant tray out of the oven and spoon the vinegar/onion mixture over the eggplant as pictured. The dish is ready to serve!
This is a great vegetarian dish in its own right, but also shines when served alongside a lamb cutlet.
Our soft, juicy Merlesco Merlot is the perfect red wine for this light mediterranean dish.