Sarde Fritte - Fried Sardines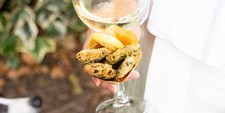 Recipe Date:
21 November 2019
Ingredients
8 fresh sardine fillets
3 eggs, beaten
2 cups of breadcrumbs
2 tablespoons of chopped parsley
1 cup of cornflour
1 bottle of JOSEPH Extra Virgin Olive Oil
your favourite oil for frying
1 lemon, cut into wedges
zest of one whole lemon
salt and pepper
Directions
Mix the lemon zest, salt, pepper with beaten eggs in a medium-sized bowl.
Mix the parsley and breadcrumbs and spread them over a flat plate.
Coat the sardines in cornflour, then cover in the beaten egg mixture. Finally, crumb the sardines in the parsley and breadcrumb mix.
Heat a 2cm deep frying pan with a combination of your favourite frying oil and JOSEPH Cold Pressed Extra Virgin Olive Oil – the addition of a little premium quality olive oil adds much more flavour.
Once hot, place the crumbed sardine fillets into the hot oil and cook for 2 minutes on each side.
Once the fillets have been cooked, place them on a paper towel to drain.
Serve with wedges of lemon for a delicious summer antipasto or with your favourite crunchy salad for a main.
This dish cries out for a crisp, fresh white, and you will not find a better match than our newly released 2018 Primo & Co Verdicchio!
Buon Appetito!