Tuscan Style Chicken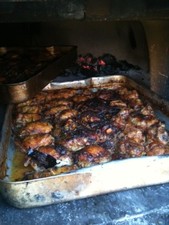 Ingredients
6 Chicken drum sticks, skin on
6 Chicken thighs (Marylands), skin on
3 Celery sticks, diced
1 Fennel bulb, diced
2 Medium carrots, diced
150 g Pancetta, diced
500 ml Primo Estate La Biondina Colombard (or other dry white wine)
500 ml Chicken stock
25 Large green olives
2 Lemons, zested
1 Bunch rosemary
2 Bay leaves
100 ml JOSEPH First Run Extra Virgin Olive Oil
1 Bunch continental parsley
300 g Cannellini beans, soaked in water overnight
6 Garlic cloves, finely chopped
2 tbsp Fennel seeds
Directions
Marinate chicken in 50ml JOSEPH First Run olive oil, lemon zest, garlic, fennel seeds and rosemary. Preferably leave overnight. In a large pot, place all diced vegetables, white wine and chicken stock. Bring to the boil and reduce until vegetables begin to soften. Add soaked cannellini beans and allow them to absorb the stock for one hour.
Place chicken pieces evently in a roasting tray and pour vegetables and liquid over the top. Add bay leaves, pancetta and olives.
Roast in a slow oven (160 degrees celsius) for approx 90 minutes or until the liquid has reduced substantially and the chicken is cooked through.
Skim any excess fat from the surface with a spoon. Sprinkle with a handfull of chopped parsley and lashings of JOSEPH First Run Extra Virgin Olive Oil. Serve with braised winter greens.