Venetian Risi e Bisi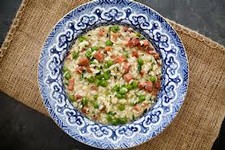 Recipe Date:
4 April 2013
Ingredients
Onion, finely sliced
50 g Pancetta, finely minced
400 g Carnaroli (Alborino or another short grained rice will do)
1/3 Cup of JOSEPH First Run Extra Virgin Olive Oil
1/3 Cup of unsalted butter
1.5k unshelled peas
Flat leaf parsley, one handful finely chopped
2 tablespoons of Grana Padano or Parmigiana Reggiano, freshly grated
Directions
Make pea broth by shelling the peas and cooking the husks in lightly salted water before straining the liquid.
Saute the onion and pancetta in oil and half the butter. Add the rice when the onion turns golden. Cook for around five minutes, stirring constantly until the rice turns translucent. Add pea broth a ladle at a time until the rice is half done then add the shelled peas and parsley. When rice is al dente remove the heat and stir in the remainder of the butter and two tablespoons of Grana Padano. Serve dressed with a drizzle of olive oil and a generous sprinkling of cheese.
Enjoy!
The Primo Estate Team