Anchovy Soldiers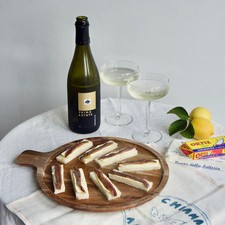 Recipe Date:
17 June 2021
Ingredients
8 fillets of highest quality Anchovies (We love Ortiz)
4 slices 'ciabatta' Bread. Toasted or not to your preference.
50 ml JOSEPH Extra Virgin Olive Oil
high quality Butter
Directions
Cut the bread into 8 2.5x8cm 'soldiers' as pictured. Remove all crust.
Drain the anchovies of their oil.
Place the anchovies in a small dish and add JOSEPH Extra Virgin Olive Oil to soak.
Add a generous layer of butter to each bread 'soldier'.
Lay a fillet of anchovy on top of each buttered soldier.
Serve with a freshly poured glass of the Primo Prosecco!