Cannellini Bean and Salami Bruschetta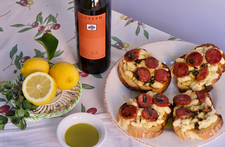 Recipe Date:
22 July 2021
Ingredients
200 g Cacciatore Salami cut into 5mm slices
800 g Cannellini Beans, drained and washed
2 Garlic Cloves, crushed
6 slices of Crusty Bread, toasted
1 quarter cup of freshly picked Oregano
juice of half a Lemon
JOSEPH First Run Extra Virgin Olive Oil
JOSEPH La Casetta Aged Vinegar
Directions
Drizzle a small amount of JOSEPH olive oil into a saucepan on low heat.
Add the garlic, and sauté gently for 30 seconds, being careful not to burn.
Add the cannellini beans, and after about 3 minutes, when they begin to fry, turn off the heat.
Season with sea salt and pepper to taste. Drizzle with another dash of JOSEPH olive oil and the lemon juice.
Gently squash approximately half the beans in the pan. Fold the mixture together and set aside.
In another small frying pan, sauté the salami with a little olive oil. The salami edges should start to crisp after about 2 minutes.
Turn off the heat and sprinkle in 3 tablespoons vinegar to deglaze the pan. Add the oregano and toss together.
Assemble the bruschette - spread the cannellini mixture onto the toasted bread slices. Top each bruschetta with slices of salami as pictured.
Drizzle more JOSEPH First Run Extra Virgin Olive Oil over the top before serving. Enjoy the vibrant fresh olive oil flavours on this rustic dish!