Chorizo-stuffed Squid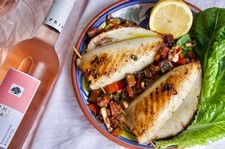 Recipe Date:
22 July 2020
Ingredients
4 Squid Tubes, cleaned with wings left on
300 g Chorizo, chopped into small pieces
1 Red Capsicum, chopped into small pieces
4 Eschallots, roughly chopped
2 Garlic Cloves, grated
4 tablespoons of JOSEPH La Casetta Aged Vinegar
20 g Parsley, leaves plucked and roughly chopped
2 Lemons, halved
JOSEPH Extra Virgin Olive Oil
Directions
Heat a tablespoon of olive oil in a frying pan over medium heat and add the chopped chorizo. Cook until the pieces start to crisp.
Remove the chorizo from the pan and place in a large bowl.
Return frying pan to the heat, add 5 tablespoons of olive oil, and fry the capsicum, eschallots and garlic for two minutes until they are well cooked. Add the vinegar to the pan and continue cooking for a further minute, stirring through.
Empty the contents of the pan into the large bowl and add fresh parsley.
Season the mixture with a little sea salt and freshly ground black pepper.
Stuff each squid by spooning the mixture into the tubes and closing the end with a small skewer as pictured.
Brush the squid tubes with olive oil, sprinkle a little sea salt, and then cook for 5 minutes on each side over a heavy frying pan or BBQ grill.
Serve with a crunchy salad and lemon wedges. Drizzle each dish JOSEPH First Run Extra Virgin Olive Oil for added flavour before serving.
A chilled bottle of Primo Estate Sangiovese Rosato is the perfect match for this kind of seafood dish. Salute!