Cotoletta alla Bolognese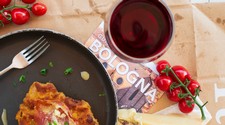 Recipe Date:
6 December 2019
Ingredients
4 Veal Cutlets, pounded until thin
1.5 cups Dried Breadcrumbs
2 Medium Eggs, beaten in a large bowl
150 g Plain Flour
100 g Butter
4 slices Prosciutto
150 g grated Parmesan Cheese
400 ml Beef Stock
4 tablespoons JOSEPH First Run Extra Virgin Olive Oil
Directions
Spread flour and breadcrumbs across two large plates
Coat the thinly pounded veal cutlets with flour, then eggs and finally breadcrumbs.
Heat butter and 4 tablespoons of JOSEPH First Run EVOO over medium high heat in a frying pan large enough to take all the veal.
Once the pan is hot, cook the veal cutlets until both sides are browned.
While they are still in the pan, place 1 slice of prosciutto then 1 tablespoon of grated parmesan on each cutlet.
Pour the beef stock around the cutlets; cover and simmer on low heat for 5 minutes.
Remove the cutlets to a serving dish.
Make the parmesan cream by adding the remainder of the grated parmesan to the pan juices and boil until thickened.
Pour the parmesan cream sauce over the top of the cutlets and serve.
Cotoletta alla Bolognese is the perfect dish for the JOSEPH Nebbiolo.
Buon Appetito!