Gnocchi in Sage and Butter Sauce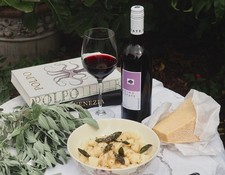 Recipe Date:
30 April 2020
Ingredients
2.5 kg Potatoes
2 cups Plain Flour
2 Eggs
150 g Unsalted Butter
20 Fresh Sage Leaves
3 teaspoons Salt
1 teaspoon Pepper
30 ml JOSEPH 'First Run' Extra Virgin Olive Oil
60 g Freshly Grated Parmesan
Directions
Handmade Potato Gnocchi
Peel potatoes and then boil in a large pot until cooked through. (You should be able to put a skewer through them and feel no resistance).
Once cooked, carefully remove potatoes from the pot and mash until smooth. Make sure you are left with no lumps. Leave potatoes to cool before adding egg.
Place the mashed potatoes out onto a floured bench ready for kneading. Once cooled, add eggs and two teaspoons of salt, and start incorporating while slowly adding flour. Gently knead until all of the flour, eggs and salt are incorporated, but be careful not to overwork it. Add extra flour by the tablespoon only if the dough is too wet to come together after kneading.
Break off a chunk of the dough and roll it into a sausage shape about 2cm wide. Then, using a butter knife, cut the dough sausage into 3cm pieces. Repeat with the remaining dough.
The gnocchi can be left to be cooked in this pillow shape, or rolled on a fork or gnocchi board to create texture. To indent the gnocchi with a fork, place one pillow on the back a well-floured fork, gently press your thumb to the middle of the pillow, and roll the segment down the length of the fork tines. These indentations will help sauce cling to the gnocchi. Place each completed segment on lightly floured trays or plates, making sure they don't get stuck together.
Boil a large saucepan full of salted water. When bubbling, gently add gnocchi. You may have to cook them in batches depending on the size of your saucepan/the amount of gnocchi. The gnocchi will cook fast, and once cooked, they will rise to the surface. Immediately take them out with a slotted spoon and put them straight into your sauce.
Sage and Burnt Butter Sauce
Cut butter into small pieces and place in a large pan over medium-low heat. Cook butter, stirring often, until lightly golden brown and foamy. (4-6 minutes).
Add sage leaves and cook, stirring constantly, until sage is dark green and crisp. Remove the pan from heat and add one teaspoon salt and one teaspoon pepper. If the butter is browning too fast, add a splash of pasta cooking liquid to the pan.
Place cooked gnocchi into the pan and gently coat with the sauce before serving.
Serve with freshly grated parmesan cheese, lashings of JOSEPH Extra Virgin Olive Oil and a cool glass of our 'Merlesco' Merlot - this juicy red is perfectly balanced to match the soft texture of the butter gnocchi.